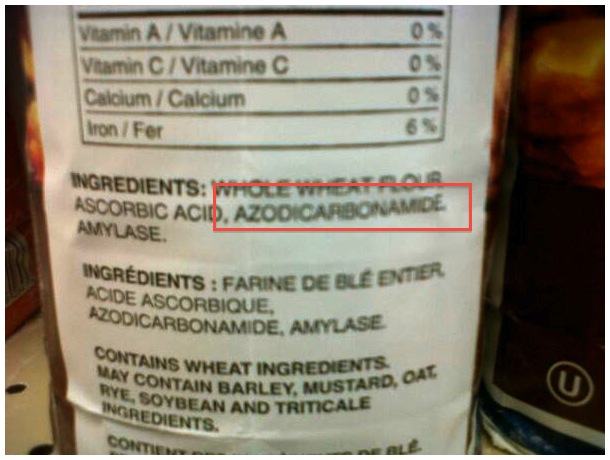 Yoga Mat Chemical Azodicarbonamide Found in Nearly 500 Foods
Last month we shared the news that Subway would no longer use ADA (azodicarbonamide) in their bread. Azodicarbonamide is a chemical foaming agent used to make plastics.  The World Health Organization has linked ADA to increased risk of respiratory problems and asthma in workers handling the chemical. Unfortunately, a new report by the Environmental Working Group found nearly 500 foods that contain azodicarbonamide. Here is the list of nearly 500 foods containing azodicarbonamide:
*Note – Since posting this list, some of these more well-known brands have removed azodicarbonamide from their products including Subway.
Brand Name*
Product
Aladdin Bakers
Jumbo Bagels Cinnamon Raisin
America's Choice
Muffin Sandwiches Turkey, Sausage, Egg & Cheese
Amigos
Tortillas
Archer Farms
Simply Balanced 100% Whole Wheat Hamburger Buns
Arnold
Bakery Light 100% Whole Wheat BreadSandwich Rolls, Wheat
Artichoke Basilles Pizza Co.
Margherita Pizza
Artisan Fresh
Jumbo Wheat Hoagie
Aunt Hattie's
Onion BunsPotato Hamburger Enriched Buns
Aunt Millie's
Honey & Hamburger BunsWhole Grain Bread
Bagel-Fuls
Bagel Filled With Cream Cheese, Original
Baker's Treat
Big Texas Cheese Roll Pastries
Ball Park
Flame Grilled Barbeque Chicken SliderFlame Grilled Beef SlidersFlame Grilled Cheese Burger SildersHot Dog Buns
Bell's
Traditional Stuffing
Betty Crocker
Pasta Caesar SaladSuddenly Pasta Salad, Caesar
Big Az
Cheeseburger
Bimbo
Bread CrumbsDouble Fiber BreadLarge Wheat BreadSabor Chocolate

Toasted Bread

Toasted Bread, Original

Bon Appetit
Apple DanishBlueberry Cream PastryCheese & Berries DanishCheese Croissant

Super Cinnamon Roll

Bridgford
Cinnamon Pull-Apart Monkey BreadReady-Dough Frozen White Bread Dough
Brownberry
Chicago Hot Dog RollsKaiser Sandwich BunsSandwich Buns, OnionSausage Rolls, Original
Bunny
Hot Dog Buns
Butternut
1/2 Loaf White Enriced BreadAll Whole Grain 100% Whole Wheat BreadBrown' N Serve Enriched RollsDeluxe Buns

Enriched Burger Buns, Sliced

Enriched Hot Dog Buns, Sliced

Hearty Rye Bread

Honey Wheat Bread

Italian Bread

Large Enriched Bread

Sliced Buns, Seeded

Whole Grain White Bread

Whole Wheat Bread

Castillo
Castillo Croissants
Centrella
Hot Dog Buns, EnrichedRestaurant Style Caesar Crotons
Chef M.J. Brando
Grilled Cheese Sandwiches, CheddarGrilled Cheese Sandwiches, Swiss
Clear Value
White Bread
Cloverhill
Apple Danish
Cole's
CheesesticksGarlic Mini Loaf
Connella
Bread Crumbs
Corfu Foods Inc.
Hand Made Pita
Country Hearth
Dakota Style 12 Grain BreadHearty Homestyle 100% Whole Wheat BreadHearty Homestyle Honey Grain 'n Oat BreadSplit Top Wheat Bread

Split Top White Bread

D'italiano
Italian Bread
Day'n Night Bites
Country Sausge Muffin With Egg'n Cheese
Drake's
Danish Pastries Cheese
Earthgrains
Honey Wheat Berry BreadSliced French Premium BreadWheat Rolls
Entenmann's
Raspberry Danish
Essential Everyday
5 Cheese Texas ToastGarlic BreadGarlic Bread SticksGarlic Texas Toast
European Bakers
Onion RollsWhite Sub Rolls
Farm Rich
French Toast Sticks, Cinnamon SprinkleFrench Toast Sticks, Original
Fiber One
Hamburger BunsHot Dog Buns
Fleischmann's
Simply Homemade Baking Mix, Pretzel CreationsSimply Homemade No Knead Bread Mix, Country WhiteSimply Homemade No Knead Bread Mix, Italian HerbSimply Homemade No Knead Bread Mix, Multi-Grain
Food Club
Caesar Restaurant Style CroutonsGarlic CheesesticksGarlic Dinner RollsSeasoned Restaurant Style Croutons

Strawberry Strudel

Stuffing Classics Cornbread Stuffing Mix

Texas Toast, 3 Cheese

Texas Toast, Garlic

French Toast Sticks

Garlic Bread Sticks

Texas Toast, 3 Cheese

Freihofer's
White Bread
Fresh Gourmet
Premium Croutons, Butter & GarlicPremium Croutons, Cheese & GarlicPremium Croutons, Classic CaesarPremium Croutons, Garden Herb

Premium Croutons, Italian Seasoned

Premium Croutons, Parmesan Ranch

Furlani
Garlic BreadMulti Grain Garlic ToastParmesan Garlic ToastTexas Toast, Garlic

Texas Toast, Pizza

Texas Toast, Three Cheese

Gateway
Soft Rye Bread
Gimbo
Conchas Fine Pastry
Gollo
Galletas De Huevo (Eggs Crackers)
Gonnella
Sandwich Rolls
Great Value
Honey BunsHot Dog BunsWheat Sandwhich Bread
Grissom's
Hot Dog Sliced Enriched Buns
Harvest Pride
Awesome RollsSeeded Italian BreadTexas Toast BreadWheat Bread

White Enriched Bread

Hauswald's
Enriched BreadSplit Top Wheat Bread
Healthy Life
100% Whole Grain Wheat Bread, Flaxseed100% Whole Grain Wheat Bread, Sugar Free100% Whole Wheat English Muffins100% Whole Wheat Whole Grain Bread

High Fiber White Bread

Hot Dog Buns, Whole Grain

Italian Bread

Light English Muffins

Light Multigrain English Muffins

Soft Style 100% Whole Grain Bread

Hearth Of Texas Bread Company
100% Whole Wheat BreadEnriched Large White BreadExtra Thin White BreadSplit Top Wheat Bread

Whole Grain White Bread

Honey
Hot Dog Buns
Hormel
Country Crock Homestyle Stuffing
Hungry-Man
Roasted Carved White Meat Turkey
Ihop
French Toast Breakfast Sandwich, Egg, Canadian Bacon & CheeseFrench Toast Breakfast Sandwich, Maple Sausage, Egg & Cheese
J. Skinner
Cinnamon Craver's Roll
J.C. Potter
Sausage On A Bun
J.J. Cassone
100% Whole Wheat Sandwich RollsEnriched Vienna RollsItalian BreadSliced Hero Rolls

Sliced Sandwich Rolls

Wheat Bran Sandwich Rolls

Jimmy Dean
Delights Honey Wheat Flatbread, Bacon, Egg & CheeseDelights Honey Wheat Flatbread, Turkey Sausage, Egg & CheeseFrench Toast GriddlersMuffin, Sausage, Egg & Cheese

Sausage, Egg & Cheese On A Muffin

Turkey Sausages Egg White & Cheese Whole Grain Bagel

Joseph Campione
Authentic Hearth Baked Garlic BreadBread Sticks, GarlicCheese Stuffed Bread SticksDinner Rolls, Parmesan Garlic

Garlic Bread, Authentic Hearth Baked

Garlic Mini Loaf

Texas Toast, 5 Cheese

Texas Toast, Garlic

Texas Toast, Parmesan

Key Food
Seeded Rye European Hearth Bread, Deli StyleSeedless Rye European Hearth Bread, Deli Style
Kid Cuisine
Kc's Campfire Hot Dog
Kroger
White Enriched BreadWhite Hamburger Enriched Buns
L'oven Fresh
Split Top Wheat Bread
Lakeland
Hot Dog Buns EnrichedWhite Enriched Sandwich Bread
Lewis
Healthy Life Wheat Hot Dog BunsWhole Wheat Sandwich Buns
Liberty Hearth
New York Deli Kaiser Rolls, Poppy
Little Debbie
Cheese Danish Classic PastryCinnamon Rolls With IcingCream Cheese Danish PastryDanish Pastry, Cherry Cheese

Honey Buns

Maglio
Stromboli, Philly Style Steak & Cheese
Manischewitz
Pumpernickel Bread
Mariano's
100% Whole Wheat BreadAsiago Cheese FocacciaBell Pepper Focaccia MuffinsBreadstics

Butterflake Rolls

Cheese Pizza Bread

Chefs Collection Italian Focaccia Half

Cinnamon Raisin Bread

Club Rolls

Egg And Onion Brat Bun

Egg Dinner Rolls

English Muffin Bread

Fresh Tomato Focaccia

Garlic Bread

Ham Swiss Sub

Hamburger Buns

Hard Rolls

Hot Dog Buns

Italian Bread

Italian Specialty Bread By The Pound

Jalapeno Cheddar Focaccia

Jalapeno Cheddar Focaccia Muffins

Kaiser Rolls

Large Kaiser Rolls

Marble Rye Bread

Olive And Parmesan Chop Block Bread

Onion Rye Specialty Bread

Paisano Italiano Sandwich

Parisian Chocolate Croissant

Roast Beef & Cheddar Croissant

Rotisserie Chicken Salad Croissant

Rye Specialty Bread By The Pound

Salami And Provolone Chop Block Bread

Tomato Basil Chop Block Bread

Walnut Raisin Specialty Bread

Wheat Bread

Wheat Club Rolls

Wheat Dinner Rolls

Wheat Hamburger Buns

Wheat Hot Dog Buns

White Bread

Whole Wheat Specialty Bread

Marie Callender's
Flaky Croissant With Ham & SwissFlaky Croissant With Sausage, Egg & Monterey JackSpaghetti With Meat Sauce
Market Street
Butterflake Rolls
Martin's
Cinnamon Raisin Swirl Potato BreadHoagie Rolls, UnseededLong Roll, Potato RollsPotato Bread, 100% Whole Wheat

Potato Bread, Sandwich

Potato Rolls

Potatobred Soft Cubed Stuffing

Marty's
Large Rolls
Master
Hamburger Enriched BunsHot Dog Enriched Buns
Mckee
Cheese Danish With IcingCinnamon Rolls
Mediterranean Pita
Bread
Met Foodmarkets
Giant White Enriched BreadHamburgers Enriched BunsHot Dogs Enriched Buns
Mother's
Giant Enriched White BreadSplit Top Wheat Bread
Mrs. Baird's
Pastry Kitchen Cinnamon RollsCinnamon Rolls, CherryCinnamon Rolls, Original
Mrs. Cubbison's
Butter & Garlic CroutonsCorn Bread Stuffing, SeasonedSeasoned Croutons
Mrs. Freshley's
Honey Buns
Murry's
French Toast Bites, Cinnamon Blase
New York
Bread Sticks With Real GarlicHand-Tied Garlic Knots With Real GarlicTexas Toast, 5 CheeseTexas Toast, Garlic
New York Deli
Kaiser Rolls, PlainKaiser Rolls, Sesame
Old Style
Cottage Potato Bread
One Republic
Skinny Buns
Oroweat
Raisin Cinnamon Bread
Palagonia
100% Whole Wheat Sandwich RollsFrench BreadItalian BreadMini Heros

Panino Italiano

Rolls

Sliced Italina Bread

Patriotic
Honey Buns
Pelmen
Blueberry Perogies Peroguis Aux BleuetsMushrooms ChampigonsPerogies, CherryPerogies, Potato With Cheddar Cheese

Perogies, Potato With Cottage Cheese

Perogies, Potato With Spinach & Feta

Perogies, Sauerkraut

Perogies, Sauerkraut Mushrooms

Perogies, Sweet Cottage Cheese

Pillsbury
Artisan Dinner RollsArtisan Pizza Crust With Whole GrainBreadsticks, OriginalCrusty French Loaf

Italian Bread

Pizza Crust, Thin Crust

Toaster Scrambles, Cheese Sauce, Egg & Bacon

Toaster Scrambles, Cheese Sauce, Egg & Sausage

Toaster Strudel Pastries, Apple

Toaster Strudel Pastries, Apple Cream Danish

Toaster Strudel Pastries, Blueberry

Toaster Strudel Pastries, Boston Cream Pie

Toaster Strudel Pastries, Cinnamon With Brown Sugar

Toaster Strudel Pastries, Cream Cheese & Strawberry

Toaster Strudel Pastries, Danish Style Cream Cheese

Toaster Strudel Pastries, Strawberry

Potmann's Select
Seasoned Croutons
Rainbo
Thin Sliced White Bread
Raybern's New York Deli Style
Raybern's New York Deli Style Philly CheesesteakRoast Beef Cheddar Melt
Rhodes
Cinnamon Rolls, Cream Cheese Frosting
Roman Meal
100% Whole Wheat Bread
Rosa Bianca
Garlic Bread
Rosen's
Sweet Hawaiian Rolls
Roundy's
100% Whole Wheat BreadBlueberry BagelsBratwurst Enriched Buns, SlicedCinnamon Raisin Swirl Bagel

Croissant Sandwiches

Croutons, Cheese & Garlic

Croutons, Seasoned

Deli Rye Bread, Seedless

Enriched Hot Dog Buns

Everything Bagels

French Bread

Garlic Bread, Original

Garlic Bread, Parmesan

Hamburger Enriched Buns

Italian Sausage Tortelloni

Meat & Fine Herbs Ravioli

Muffin Sandwiches, Ham Egg And Cheese

Muffin Sandwiches, Sausage, Egg & Cheese

Plain Bagels

Presliced Everything Bagels

Quarter Pound Chicken Sandwich

Select 9 Grain Bread

Texas Toast, Garlic

Texas Toast, Three Cheese

Wheat Bread, Split Top

Wheat Muffin Sandwiches, Turkey Sausage, Egg White & Cheese

White Enriched Bread

White Enriched Sandwich Bread

S.Rosen's
Black Bavarian Rye BreadBohemian Style Rye BreadBrat & Sausage RollsEnriched Hot Dog Buns

French Rolls, Italian Beef Rolls

Hawaiian Bread, Pineapple

Kaiser Buns

Marble Rye Swirled

Multi Grain Bread

Rye Bread

Rye Bread, Caraway Seeds

Rye Bread, Unseeded

Wheat With Oat Bran Buns

Safeway
Cornbread Stuffing MixFive Cheese Garlic Toast
Sara Lee
Blueberry Crumble Breakfast BreadBrown Sugar Cinnamon Breakfast BreadCenter Split Deli Rolls, WhiteCinnamon Breakfast Bread With Raisins

Cinnamon Raisin Bagels

Cinnamon Rolls

Classic Dinner Rolls

Deluxe Bagels, Blueberry

Deluxe Bagels, Cinnamon Raisin

Deluxe Bagels, Plain

Hearty & Delicious 100% Whole Wheat Deli Rolls

Hearty & Delicious Center Split Deli Rolls, White

Honey Wheat Bread

Soft & Smooth 100% Whole Wheat Bread

Soft & Smooth 100% Whole Wheat Hot Dog Buns

Soft & Smooth Hamburger Buns, White

Soft & Smooth Hot Dog Buns, White

Soft & Smooth Wheat Hamburger Buns

White Bread

Schmidt
Enriched BreadEnriched Hamburger Rolls, SlicedRye BreadWheat Rolls

Whole Grain White Bread

Select Signatures
Spicy Chicken Sliders
Shoprite
Bangles Whole WheatCinnamon BreadCountry White BreadEnriched Cinnamon Swirl Bread

Enriched Honey Wheat Bread

Enriched Light Hot Dog Rolls

Enriched Light Wheat Bread

Enriched Round Top White Bread

Garlic Bread Sticks

Garlic Dinner Rolls

Hot Dog Rolls

Italian Bread

Onion Bagels

Poppy Bagels

Potato Hamburger Rolls

Premium Bread

Premium Bread With 100% Stone Ground Wheat

Sandwich White Bread

Sesame Bagels

Sliced Hearth Baked Plain Bagels

Split Top White Bread

Swirl Rye Bread

Texas Toast Garlic

Wheat Bread

Simplyaddwater
Premium Challah Bread Mix
Smucker's
Uncrustables Peanut Butter & Grape Jelly SandwichUncrustables Peanut Butter & Grape Spread Sandwich, Reduced SugarUncrustables Peanut Butter & Rasperry Spread SandwichUncrustables Peanut Butter & Strawberry Jam Sandwich

Uncrustables Peanut Butter & Strawberry Spread Sandwich, Reduced Sugar

Snacks
Iced Honey Buns
Storehmann
Split Top Wheat BreadWhite Bread
Sun-Maid
Raisin Bread, Cinnamon Swirl
Sunbeam
Enriched BunsGrill'n Griddle BreadHot Dog BunsLarge, Enriched Bread

Texas Toast Enriched Bread, Thick Sliced

Super Bread
Giant White Enriched BreadHamburger Enriched BunsHoney Wheat BreadHot Dog Enriched Buns

Raisin Bread

Tastykake
Glazed Honey BunsHoney BunIced Honey Buns
The Bakery At Walmart
Glazed Yeast DonutsJumbo Croissant
Toufayan Bakeries
Bagels BlueberryCinnamon RaisinEverything BagelsMini Bagels, Cinnamon Raisin

Mini Bagels, Plain

Pre-Sliced Bagels, Whole Wheat

Pre-Sliced Mini Bagels, Whole Wheat

Turano
Brat & Sausage RollsExtra Long French BreadFrench RollsGourmet Sandwich Rolls

Italian Bread

Kaiser Rolls

Old Fashioned Italian Bread

Soft Sub Rolls

Wheat French Rolls

Wheat Rolls

Tuscan Garden
Caesar Gourmet Restaurant Style Croutons
Tyson
Mini Chicken SandwichesMini Chicken Sandwiches With Cheddar CheeseMini Grilled Chicken Sandwiches
Unger's
Puff Pastry Shells
Vachon
Carrot Cakes
Valu Time
Wheat Bread White Enriched Bread
Van De Kamp's
Enriched Hot Dog Buns Sliced
Village Hearth
100% Whole Wheat BreadCottage Bread, WheatHoney Wheat BreadLight 12 Grain Bread

Light Italian Bread

Light Wheat Bread

White Brat Buns

Weight Watchers Smart Ones
English Muffin Sandwich, Canadian Style BaconEnglish Muffin Sandwich, Egg Whites & CheeseHomestyle Turkey Breast With Stuffing
White Castle
CheeseburgersMicrowavable Hamburgers
White Rose
Stuffing Mix
Wonder
Light Wheat BreadPotato Hot Dog BunsTexas Toast Bread