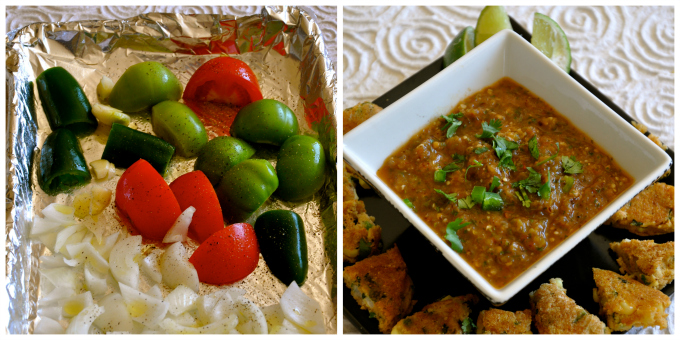 Roasted Chipotle Salsa & The Veganator Strikes Again
My family likes to joke and call me the "Veganator" because I am always bringing up reasons for them not to eat the food they are ready to put in their mouth. They say, "watch out, here comes the Veganator!"  Well, I'm no Arnold Schwarzenegger but I can't help myself. After everything I have learned from my plant-based nutrition course at Cornell, my studies and all my research, I am dedicated to improving human health by sharing my knowledge. We have all been bamboozled by big business and advertising. Food manufacturers spend billions of dollars  to market processed and unhealthy food to the public and try to confuse us about nutrition. It's no wonder people can't fathom the idea that the food they are eating can cause heart disease, cancer, obesity, type-2 diabetes and early death. It is also very difficult for people to process that information when presented with evidence that their favorite foods might be killing them. Usually their response is a joke of some sort like "I'm going to die anyways" or "Life is too short and I love cheese." Whatever the response, generally it is total denial. So what's a "Veganator" to do?
Well, just when I thought I hadn't made any impact on my family, suddenly they start eliminating red meat or cutting back on the dairy. Next they are telling me, they have been vegan for the last 7 days. Now they are posting photos of their vegan food on Facebook! That put the biggest smile on my face. So what I have learned from that, is never give up. Just when you think people aren't listening, they are. We don't have to be obnoxious about it, just share what we have learned and lead by example. Once they start reaping the health benefits like losing weight, glowing skin, renewed energy, odds are they will never go back, and the "Veganator's" job is done. Now on to some delicious roasted chipotle salsa.
Just like the dance, salsa can add zip to any dish.  Besides the obvious choices like vegan tacos and quesadillas, you can serve this chipotle salsa alongside chickpea pancakes, spooned over a stir-fry or simply as an appetizer with some corn fritters or fresh chips. What makes this salsa unique, is the process of roasting the vegetables which creates a sweetness and richness you just can't get when sauteing or steaming a vegetable. Also, the touch of chipotle adds a wonderful smokiness. Most importantly it is healthy and simple to make. Hope you enjoy this delicious, chipotle salsa recipe as much as I did. If you haven't already, sign up for all my free healthy vegan recipes here.
Roasted Chipotle Salsa
This salsa is delicious warm over a stir-fry or serve with freshly made tortilla chips.
Ingredients
3 tomatillos, husked and cut in half
½ small onion, chopped
1 Anaheim chile, seeded and chopped
2 garlic cloves
2 plum tomatoes, quartered
1 jalapeno peppers, seeded and chopped (if you like more heat, add 1 more but taste before you add it)
¼ teaspoon salt (or more to taste)
¼ teaspoon ground black pepper
2 teaspoons fresh lime juice
½ chipotle chile in adobo, with a little of the sauce
¼ cup chopped fresh cilanto leaves (and 1 tablespoon for garnish)
drizzle of maple syrup to cut down the acid (optional)
Instructions
Preheat the oven to 400 F.
In a single layer, arrange the vegetables on a baking sheet and bake until the vegetables are softened and slightly carmelized, about 25 minutes.
Transfer the roasted vegetables to a food processor or blender. Add the lime juice, chipotle and cliantro and process until preed but still chunky. About 10 seconds. Taste, adjust seasonings and add a drizzle of maple syrup if needed.