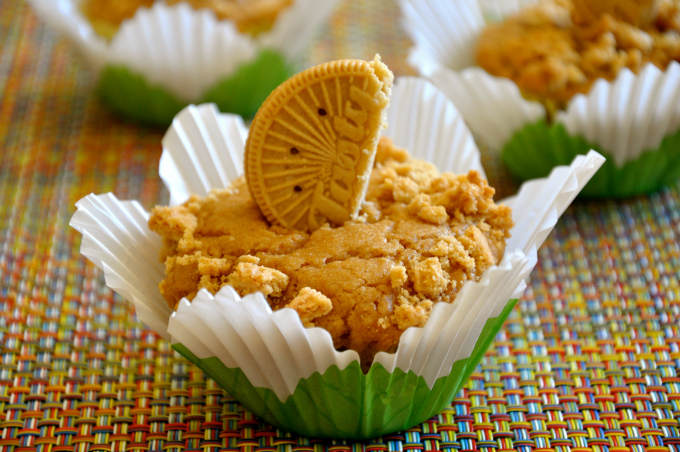 Vanilla Tasty Brand Cookie Cupcakes
If you have never had turmeric, it is a sharp, earthy spice with a hint of ginger and a key ingredient in Indian curries. It also adds a lot of color to food and is used to make American mustard yellow. Overall it is very tasty, but the best part is the anti-inflammatory molecules.
Turmeric contains a compound called curcumin. Curcumin is a powerful anti-inflammatory that can prevent free radical damage to cells. Over the years, there have been hundreds of studies that have concluded that turmeric outperforms most pharmacy drugs against many diseases with nearly no side effects. The most compelling studies  have been on turmeric's effects in addressing Alzheimer's disease. Here is how it works. Amyloid plaque in the brain aggravates Alzheimer's disease. Turmeric can help remove the plaque from the brain helping to prevent Alzheimer's Disease and/or slow its progression. Research shows that senior citizens in India who eat turmeric in their daily curries have the lowest rate of Alzheimer's disease. Curcumin has many other health benefits too including easing the pain associated with arthritis and helpful in fighting breast, prostate, colon, and skin cancers. It is also good to use when you have stomach problems.
You do not have to make a curry to reap the health benefits of turmeric. Okinawans, who have the world's longest average life span, drink large amounts of of turmeric tea. Here is an easy recipe.
Bring 4 cups of water to a boil. Add one teaspoon of ground turmeric and reduce to a simmer for 10 minutes. Strain the tea through a fine sieve, add ginger, sweetener or lemon to taste.
Remember to store your turmeric in cool dark place, to maintain potency, and replace every six months. I am working on five new turmeric recipes for next week so please stop by. Now on to today's plant-based recipe. No turmeric but very yummy.
As many of you know, I have a serious sweet tooth. I grew up in a home where we always ended our meal with something sweet. It could be ice-cream, fruit, cookies but after dinner there was always a little something to finish the meal. I am still the same way. Unfortunately, I have not been able to find many organic vegan cookies that I liked until I came across these organic, non-gmo Tasty brand vanilla cupcake cookies at Whole Foods. I reached out to the company, and they sent me every flavor including banana split and peanut butter. I liked the vanilla cream cupcake cookie so much I decided to actually make a cupcake with the cookies.  Sometimes you just have to have a little fun with food. Hope you enjoy these cookie cupcakes as much as I did. Don't miss any of Ordinary Vegan's free recipes by joining our healthy community here.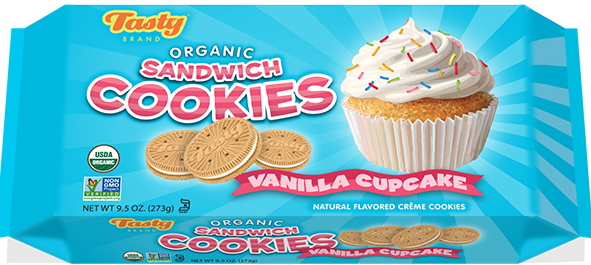 Vanilla Tasty Brand Cookie Cupcakes
Ingredients
¾ cup flour
1 cup or more Tasty vanilla cookies, chopped to equal ¾ cup (and some for topping)
1 cup non-dairy milk (I like almond)
1 tablespoon apple cider vinegar
½ teaspoon salt
¾ teaspoon baking powder
½ teaspoon baking soda
¼ cup maple syrup
3 tablespoons apple sauce
1 teaspoon vanilla extract
Instructions
Put the cookies in a food processor and process until crumbled. It should be thicker than a powder, but you shouldn't see chunks.
Preheat the oven to 350 degrees F. Line a 12-cup muffin pan with paper liners.
Combine the flour, ground cookies, salt, baking powder, baking soda in a large bowl. Add the milk, vinegar, maple syrup, apple sauce and vanilla. Stir together until just combined.
Divide the batter among the muffin cups, filling each three-quarters full. Top each one with a teaspoon of crumbled cookies.
Bake until a toothpick inserted into the center of a cupcake comes out clean, 18 to 20 minutes, rotating the pan halfway through.
Transfer the pan to a rack and let cool completely.