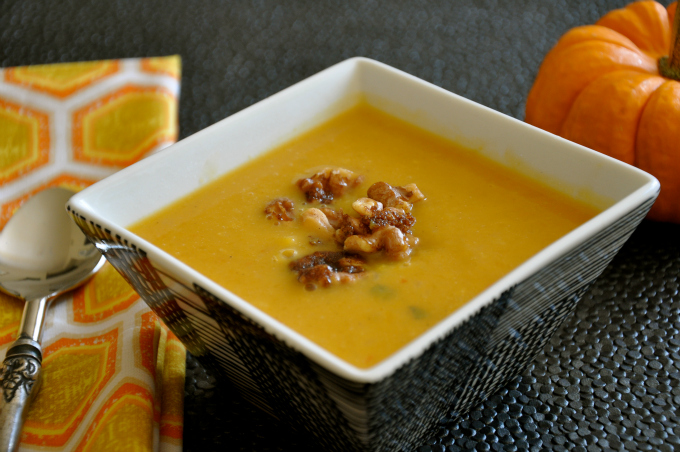 Curried Butternut Squash Soup with Sweet & Spicy Walnuts
There is nothing better on a cold, dreary day than breaking out a big pot and making soup.
Today I not only pulled out my big pot,  but I was feeling exotic,  so I also pulled out my Padma Lakshmi's cookbook called "Tangy, Tart, Hot and Sweet.
Padma really challenges you to take chances with exotic spices and somehow it all works.   The cookbook isn't  vegan, but there are many vegetarian or easily modified to be vegetarian / vegan  recipes.
I especially love this curried butternut squash soup with coconut milk. It is pretty simple but has tremendous flavor. I switched it up a little bit by adding some sweet and spicy walnuts and replacing one of the hard to find exotic ingredients, but it was still so yummy.
Hope you enjoy this butternut squash soup as much as I did! Don't miss any of Ordinary Vegan's free recipes by signing up here.
Ordinary Vegan now produces a line of all natural vegan CBD Oil from Hemp. CBD oil has been taking the wellness world by storm because of its powerful anti-inflammatory properties for regulating muscle pain and stress response.
No matter what your particular ailment may be, CBD oil from hemp may help. You can now purchase a safe and effective vegan CBD Oil from Ordinary Vegan. My mission is to provide you with the highest quality CBD Oil from Hemp on the market. I hope it can help you.
Don't hesitate to email me with any questions – questions @ ordinaryvegan.net. Learn more about CBD Oil from hemp here.

Curried Butternut Squash Soup with Sweet & Spicy Walnuts
The sweet and spicy nuts are a great touch. Here is an easy recipe: 2 cups walnuts (or your favorite nut) ¼ cup light brown sugar 1 tablespoon vegan butter 1 teaspoon cayenne pepper 1 tablespoon maple syrup (I add a touch of red pepper flakes for extra heat but that is optional) Preheat oven to 350 degrees. Spread nuts on a rimmed baking sheet and toast for 10 minutes. In a large bowl combine melted butter, brown sugar, cayenne pepper and maple syrup. Add nuts, toss to coat. Transfer nuts back on to the baking sheet in a single layer and bake for another 10 minutes.
Ingredients
⅛ cup virgin olive oil
1 cup diced shallots (or white onion)
3 whole cloves garlic, chopped
¼ cup minced ginger
4 bay leaves
½ teaspoon crushed red pepper
2½ pounds butternut sqush, peeled and cut into chunks
1½ teaspoons salt
1 teaspoon curry powder
2 cups of vegetable stock
2 tablespoons maple syrup
1 15-ounce can low-fat coconut milk
garnish: freshly chopped chives and sweet and spicy roasted walnuts
Instructions
In a deep pot over medium heat,heat the oil. Add the shallots, stirring for a couple of minutes. Add the garlic and continue to stir as you add the ginger. When the shallots start to soften about 4 to 5 minutes, add the bay leaves and crushed red pepper and saute for an additional minute
Add the squash, salt, and curry powder. Stir and cook for 10 minutes or so.
Turn the heat to medium high and add the vegetable stock. Put the lid on the pot and bring the soup to a boil. Immediately lower the heat and simmer for an additional 30 minutes, stirring and mashing every 5 minutes. About 15 minutes into the boiling process, add the maple syrup and coconut milk, and stir.
When the 30 minutes are up, remove the bay leaves from the soup. With an immersion blender, puree to achieve a creamy texture
Reheat the soup in it's puréed form for 10 minutes more adjusting salt and pepper to taste, if needed. Garnish with chopped chives and roasted walnuts.