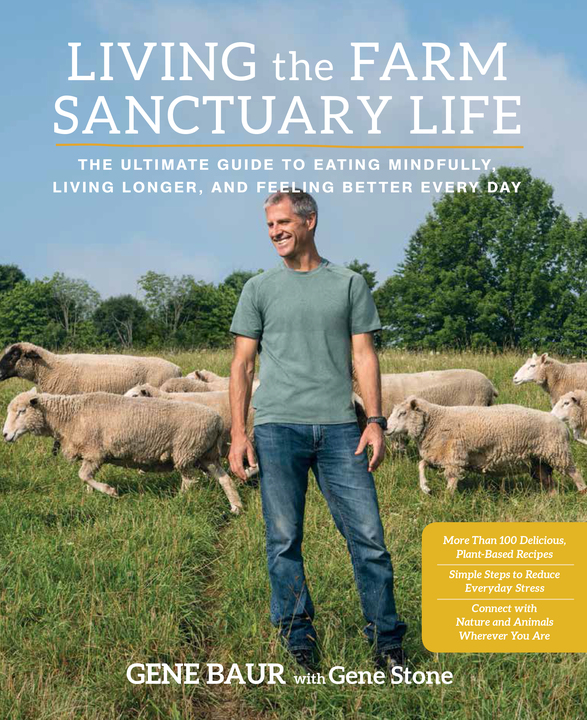 "If we can live well without causing harm to animals – why wouldn't we?"
Gene Baur, Co-Founder of Farm Sanctuary, Author and Activist
Gene Baur Discusses His New Book "The Farm Sanctuary Life"
Friday I had the opportunity to video chat with Gene Baur over Skype about his new book "The Farm Sanctuary Life." If you don't know Gene, you should. Gene Baur is the co-founder and president of Farm Sanctuary. Gene dedicates his life to saving farmed animals who have been abused. His organization promotes laws and policies that support animal welfare and animal protection through rescue, education and advocacy. Farm Sanctuary houses over 1000 cows, chickens, ducks, geese, turkeys, pigs, sheep, rabbits and goats in New York and California.  Gene also competes in marathon and triathlons to demonstrate how plant foods can fuel athletic performance.
His book covers the basic tenets of Farm Sanctuary life – such as eating in harmony with your values, connecting with nature wherever you are, and reducing stress. He also offers readers simple ways to incorporate these principles into their lives. Not only is his advice life changing, he also teaches readers how to cook and eat the Farm Sanctuary way, with delicious recipes by some of his Farm Sanctuary's biggest supporters including Ellen Degeneres.  I reached out to our community for questions for Gene and they came back with some good ones. Gene discusses why he doesn't eat humanely raised eggs, how he handles the horrors of animal abuse and why kindness and compassion can be contagious. He also answered the number one question from the Ordinary Vegan community which was – "is he single?"
Thanks Gene for taking the time out to answer our communities questions and thank you for everything you do for animals. Anyone who loves animals should own this book.
If you would like to meet Gene, he is currently doing a book signing tour so check here to see if he is coming to a city near you.  You can order the book, "Living the Farm Sanctuary Life",  here.
>