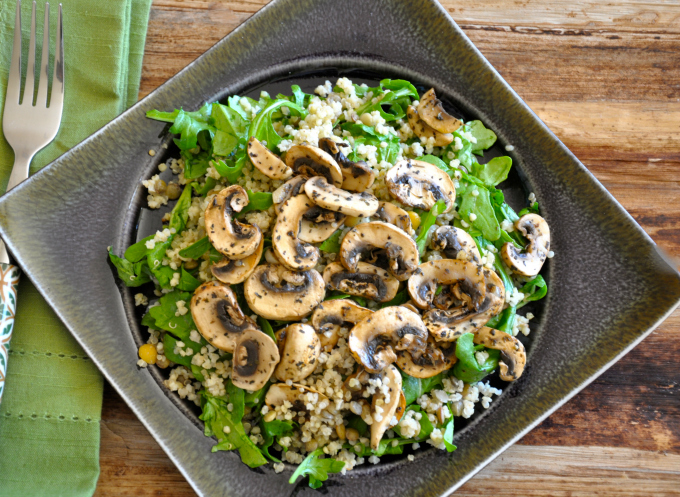 Mushroom Quinoa Salad with Champagne Chive Vinaigrette
& How Do I Control My Overwhelming Need To Know?
"The important thing is not to stop questioning. Curiosity has its own reason for existing."
~~Albert Einstein
I have always been a curious person and I could sit for hours and just observe people walking by. Sometimes my curiosity gets out of hand and my need to know can get me into uncomfortable situations. For example, there is this young woman who runs every day in my neighborhood. She is very inspirational because rain or shine she is always out there running. But there is one curious thing about her. She has long, blond, beautiful waist length hair and she never puts in a ponytail. I always think "how does she run with all that hair hanging down?" "Wouldn't it be easier to just put her hair in a ponytail?" It always crosses my mind when I see her running.
Well last weekend, I was in Target and there she was – right across the aisle. The girl with the waist length hair that runs in my neighborhood. She was looking at bathing suits so I kind of mosey my way over and start making chit chat. I clumsily say to her "oh you're the girl who runs all the time?" She looks at me a little startled and hesitantly says "yes."  I then say "oh, you are very inspirational!" She says "thanks" and starts to walk away. Well, I couldn't help myself – I had no control over my actions and I blurt out "can I ask you something?" She turns around and says "what?" I thought a tad impatiently. So I say very quickly "how do you run like that without putting your hair in a ponytail?" I could tell from her expression that it took her a moment to register what I said. Then she looked at me like I was completely insane, turned and walked away. She even looked back at me as if I was going to follow her. Oddly, I stood there a minute not feeling embarrassed but instead wondering why the woman thought that was a weird question. Later, I told my girlfriend the story and she laughed and said "just because you think something doesn't mean you have to say it." I disagreed. Hmm – what do you guys think?  Did I take my curiosity too far? Now on to food.
Yesterday I made this light and delicious, easy mushroom quinoa salad with arugula. The earthiness of the mushrooms contrasted so well with the peppery arugula and I absolutely love this champagne chive vinaigrette which contains only 1 tablespoon of oil for an entire cup of yumminess. This would make a nice main meal with some toasted bread and cashew cheese or you could make a big batch and serve it as a side. Hope you enjoy this mushroom quinoa salad recipe as much as I did. Wishing you a compassionate and curious week.
Don't miss any of Ordinary Vegan's free recipes by signing up here.

Mushroom, Quinoa & Arugula Salad with Champagne Chive Vinaigrette
This recipe creates two hearty main meal salads. When dressing the salad, add the chive vinaigrette a spoonful at a time so you don't overdress. You should have extra dressing for another day or another salad.
Ingredients
Salad
2-4 tablespoons vegetable broth
8 ounces of mushrooms, white or brown, sliced
1 garlic clove, chopped
½ teaspoon dried basil leaves
1 cup cooked quinoa (recipe below)
2 cups of fresh arugula
Dressing
4 tablespoons Champagne vinegar
1 tablespoon Dijon mustard
2 tablespoons fresh lemon juice
1 tablespoon maple syrup
¼ cup water
¼ teaspoon salt
¼ teaspoon pepper
2 tablespoons fresh chives
1 tablespoon extra-virgin olive oil
Instructions
Vinaigrette
Combine the vinegar, mustard, water, lemon juice, maple syrup, salt, pepper, chives and olive oil in a blender or food processor. Process until smooth. Taste and add more salt and pepper if needed. Transfer the dressing to a mixing bowl. Makes approximately one cup. Save extra dressing for salads.
To Prepare the Salad
Place 2 tablespoons of vegetable broth in a large nonstick skillet over medium high heat. When the broth starts bubbling, add the sliced mushrooms and dried basil. Allow the mushrooms to cook for a few minutes before adding garlic. Add garlic and cook mushrooms until golden brown adding more vegetable broth if sticking to pan. This usually takes 5-7 minutes. Remove from heat.
Tear the arugula into bite-sized pieces and mix with the quinoa. Add a couple of tablespoons of the vinaigrette. Tossing and tasting. Add more vinaigrette if needed. I don't like to overdress my salads.
Distrubute equal portions of the quinoa arugula mixture to two salad plates. Top each with equal amounts of mushrooms. Drizzle with a little more vinaigrette. Garnish with lemon slices and chopped chives.
Easy Quinoa
Quinoa can be added to a variety of dishes including salads and soups. I like warm quinoa with nuts and fruits for breakfast. It is the perfect vegan superfood.
Ingredients
2 cups of water
1 bay leaf
1 teaspoon salt
1 cup quinoa, rinsed in a fine-mesh strainer and drained
Instructions
Place the water into a medium-size pot, add the bay leaf and salt. Bring to a boil over medium heat.
Add the quinoa and reduct the heat to low. Cover and simmer for 12-20 minutes or until all the water is absorbed. Checking frequently. Remove from heat and let stand for 10 minutes. Remove the bay leaf and serve.
Makes approximately 2½ cups.