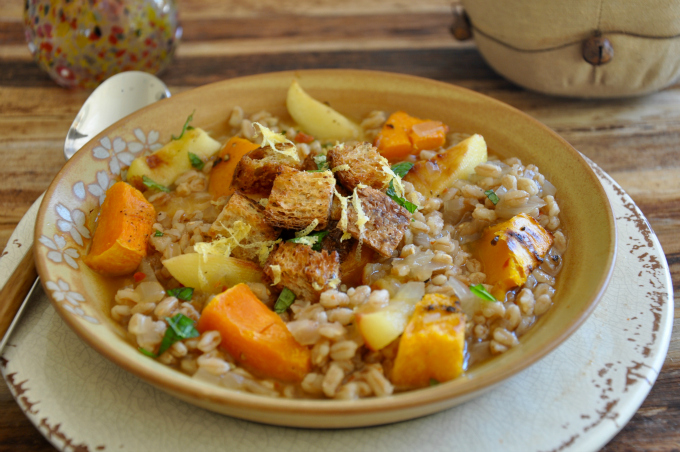 Roasted Butternut Squash, Apple & Farro Chowder
Seriously, I think I have discovered a remarkable dish that is packed with so much energy that it makes me feel like Tinker Bell flying around – light, quick and tireless. Now I can empower you to feel the same way by sharing my roasted butternut squash, apple and farro chowder (aka fairy dust).
I love farro and have blogged about it in the past. Farro is an ancient whole grain related to wheat. When cooked, it has a chewy, slightly nutty texture. Farro is not gluten-free but is significantly lower in gluten than wheat. It is an ancient grain and one of the oldest grains cultivated by humans. It was originally found in the Middle East and is now mainly grown in Italy.  It  has 4 grams of protein per half cup cooked. In comparison quinoa has 4.5 grams and brown rice has 2.5 grams per half cup cooked. It is loaded with magnesium, niacin and zinc and is low-fat. You can order farro through Amazon for about $8.00 per pound and a half.  Whole foods sell an organic 1.3 lb box for $8.99.  Make sure you get "semi-pearled" or "pearled farro".  "Whole farro" takes about 40-60 minutes to prepare. The "semi-pearled" or "pearled farro"will take 15-20 minutes off your cooking time. I always rinse the grain before cooking. Some people like to soak it for about 15 minutes especially when using "whole farro." It is easy to cook – simmer one part whole-grain or pearled farro in about 5 parts water until it is chewy – drain any excess water or let it absorb all the water until it is cooked like rice. Cooked farro will keep in the refrigerator for approximately five days. You can cook a bunch over the week-end and enjoy all week. You can eat it for breakfast warm with maple syrup and fresh fruit or cold mixed with cooked corn, cilantro, jalapeno, tomatoes and a light lemon olive oil dressing. There are so many different ways to enjoy this great tasting grain.
Last week, I made a roasted squash & farro chowder as my "go to meal." My "go to meal" is something I make on the weekend and enjoy during the week when I don't have enough time to cook. I call it chowder because it is chunky and cozy. On the three occasions that I enjoyed this chowder – my energy was at an all time high. On one of these occasions, I exercised two hours in the morning, worked all day, played tennis at night and came home and worked more. I finally figured out that it was the chowder that was energizing me. The recipe is below and I hope it has the same magical powers for you. It is yummy and delicious and a great fall dish. Serve it with your favorite green salad and add some tofu to the cooked chowder for extra protein if you like.
Vegan Day 135 – Wish me luck

Roasted Butternut Squash, Apple & Farro Chowder
Roasted Butternut Squash, Apple & Farro Chowder
Ingredients
1½ lbs peeled butternut squash, diced (4 cups)
2 teaspoons of extra-virgin olive oil (seperated)
3 large jonagold or Golden delicious apples, peeled, cored, and cut into large dices
1 cup sliced shallots (4 -6 large)
½ tsp ground cumin
½ tsp ground coriander
½ tsp red pepper flakes
¼ teaspoon salt
Fresh ground black pepper
⅔ cup semi-pearled farro ( buy semi pearled farro, which cooks in 25 minutes - pearled farro takes almost and hour)
2 tbs chopped fresh mint
1 tsp grated lemon zest
6 cups vegetable broth & ¼ cup for sautéing
Instructions
Preheat oven to 450 degrees.
Line 1 large baking sheets with parchment paper.
Toss squash with 1 teaspoon of oil in bowl, and season with salt and pepper.
Toss apples with 1 teaspoon oil in separate bowl and season with salt and pepper. Arrange squash in single layer on a prepared baking sheet and apples in single layer on another.
Roast squash 32- 36 minutes or until tender and browned on bottoms.
Roast apples 22-24 minutes.
Meanwhile, heat ¼ teaspoon of vegetable broth in a large soup pot over medium-low heat.
Add shallots, and season with salt and ground black pepper.
Saute the shallots for approximately 7-10 minutes, or until shallots are cooked and translucent, stirring occasionally. Add cumin, coriander and red pepper flakes.
Cook 30 seconds or until fragrant.
Add farro and 6 cups of vegetable broth and bring to a boil. Reduce heat medium-low and cook 25 minutes or until farro is tender. Add more vegetable broth if needed.
Stir in squash and apples, and remove from heat.
Stir in 1 tbsp mint and lemon zest and tofu (if using).
Serve sprinkled with remaining mint and ¼ tsp lemon zest.
Notes
I would use less water the next time I make it - probably seven cups instead of eight - you can always add more water if needed - ALSO, if you want more protein - add some tofu into your hot bowl of chowder - warms up immediately and takes on the flavors of the soup Double the protein grams with Tofu
Nutrition Information
Calories:
per 1½ cups - 275
Protein:
5 grams