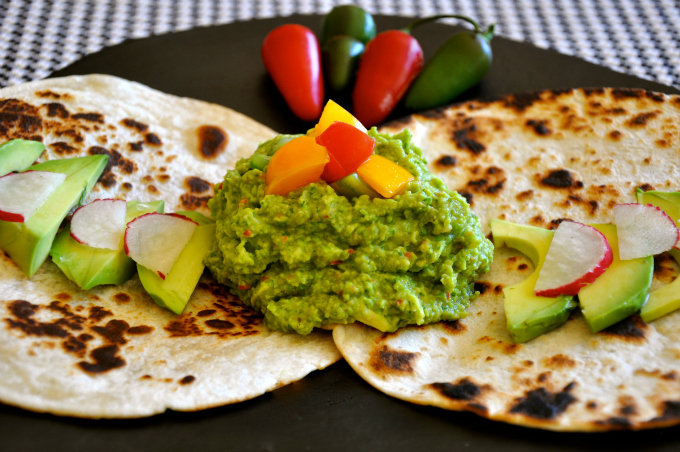 Sweet Pea Guacamole
Just found out it is officially "Guacamole Day." Who knew? So to celebrate I made one of my favorite guacamole recipes. Hope you enjoy this easy sweet pea guacamole recipe as much as I did, and Happy Guacamole Day.

Holy Moly Sweet Pea Guacamole
Ingredients
1 cup of frozen peas
1 large ripe avocado, peeled, seeded and chopped
2 garlic cloves, chopped
1 tablespoon fresh squeezed lime juice (or more to taste)
1 tablespoon fresh squeezed lemon juice
2 tablespoons fresh chopped cilantro (or more to taste)
¼ teaspoon salt
¼ teaspoon black pepper
1 jalapeno, chopped or red fresno chili (or more if you like it spicy)
¼ cup chopped green onions
Fresh tortillas toasted (toast by heating in a large saute pan until brown and puffy)
Instructions
Steam the peas until tender but not mushy. Combine all the ingredients except the fresh tortillas in a food processor and pulse until combined.
Lay a toasted tortilla on a plate. Garnish with sliced avocados and thinly sliced radishes on top with a pinch of salt. Add a small mound of guacamole. I like to eat the tortilla rolled up with a dash of hot sauce.