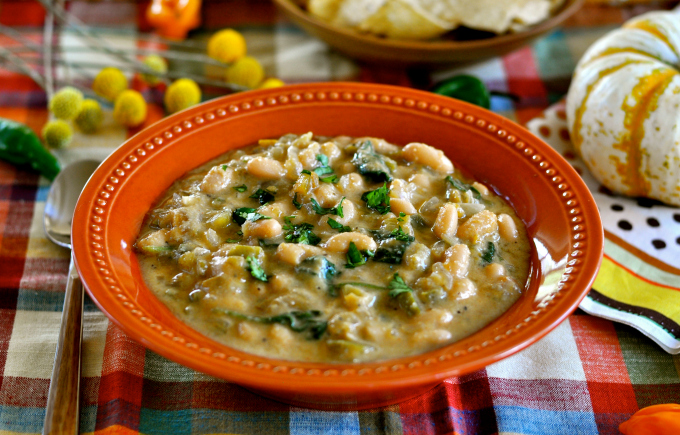 Halloween is right around the corner and there is something I always do to prepare for that busy night.  I make a big batch of my vegan bean chili with creamy cannellini beans, roasted green chiles, and spinach.
A Halloween night meal should be simple and forgiving.  Meaning you can make it a day or two in advance and rewarm throughout the evening. When family drifts in and out, there is always something hearty and healthy to feed them.
Also noteworthy is that this vegan bean chili is so easy to prepare. It can be executed start to finish in less than 35 minutes.
In addition to being hearty, this vegan bean chili is also healthy!  To prepare it all  you need are some cartons of cannellini beans, onion, jalapeño, canned roasted green chiles, spinach, and some non-dairy unsweetened milk for creaminess. I used Silk unsweetened soy milk because I like the clean taste of their soy milk for my savory dishes. Soy milk also packs a powerful protein punch.
The chili is lightly seasoned with with cumin, paprika, and cayenne. You can leave out the cayenne and jalapeño if you are serving it to  little ones who don't like spicy food.
Vegan Bean Chili With Creamy Cannellini Beans , Green Chiles & Spinach
My favorite way to present this vegan bean chili is topped with some chopped fresh aromatic cilantro and a side bowl of tortilla chips for dipping.
So the next time you are yearning to savor something vibrant and refreshing, but still need something to warm your bones, this vegan bean chili is your answer.
I would like to thank Silk for sponsoring this post. Silk and I are on a mission to educate people on why switching to non-dairy milk is the best decision for your health.  You can read more about the connection between cow's milk and disease here.
Join the movement toward improved health and nutrition. You deserve it. I always say veganism is a vessel for larger ideas and once you unleash that creative beast, there is no going back and I am here to help. You can sign up here for all my free recipes.
Thanks for joining us today. If you would like to find out where you can purchase Silk's non-dairy unsweetened soy milk: here is the store locator. You can also sign up for their newsletter. They send out lots of yummy recipes. #doplants
This is a sponsored conversation written by me on behalf of Silk. The opinions and text are all mine.
Vegan Bean Chili With Creamy Cannellini Beans, Green Chiles & Spinach
Ingredients
2 15-ounce cartons cooked cannellini beans
2 4.5 cans roasted green chiles
1 cup of Silk unsweetened Soy milk
2 tablespoons cornmeal
2-3 cups vegetable broth plus ½ cup for sautéing
1 medium onion, chopped
4 garlic cloves, chopped
1 Jalapeno, chopped
5-ounces of fresh spinach
1 tablespoon plus 1 teaspoon ground cumin
½ teaspoon paprika
½ teaspoon cayenne pepper
¼ teaspoon salt
¼ teaspoon pepper
4 tablespoons fresh chopped cilantro, for garnish
Tortilla chips for serving (optional)
Instructions
Heat ½ cup vegetable broth in a large saucepan over medium high heat. Add the onions and sauté for 3-4 minutes. Add the garlic and sauté for another minute or two. Add the chopped jalapeños, cumin, paprika, cayenne, salt and pepper. Saute for another 5-7 minutes adding more vegetable broth if sticking, stirring frequently.
Add 2 cups of vegetable broth, green chilies and rinsed beans. Bring to boil and reduce to a simmer and cook for 10 minutes.
Whisk together the corn meal and soy milk. Add to the saucepan. Bring back up to a simmer. Add the spinach and cook for another 6-8 minutes or until thickened.
Serve in bowls topped with chopped fresh cilantro. Serve tortilla chips on the side.