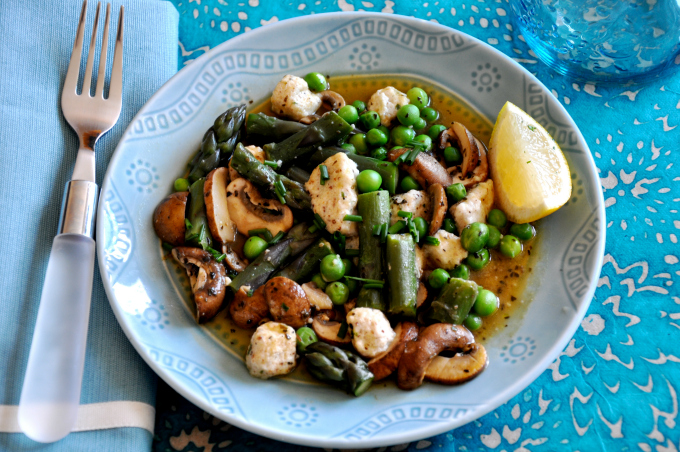 Vegan Ricotta Gnocchi with Asparagus, Mushrooms & Peas
Next month I have a three-year vegan anniversary coming up. What an exciting journey it has been. When I started out, I had no idea what the impact of going vegan would have on my life, and the life of many others. Our Facebook community is now 77,000 strong and growing like crazy.  We have vegans, part-time vegans, vegetarians and heads of family who just want to create more plant-based meals for their households.  We welcome you all. So many of you were willing to take my Ordinary Vegan survey and that has helped me get to know all of you so much better. Thanks for being so supportive of me and this blog, and thank you for sharing your compassion with the world. Celebrating and blogging about plant-based food has been hands down the most significant way for me to help improve the physical and spiritual health of people, and that has always been my goal.  There is no stopping me or us as a community. Now on to delicious plant-based food.
I am told that making gnocchi isn't for the faint of heart. I decided to try it anyways and made a quick and easy version for lunch today. They may not have been the perfect gnocchi, but they tasted pretty good. Of course I smothered them in all my favorite spring time vegetables. I was inspired to make these dumplings because I came across a new Ricotta Cheese by Tofutti. There are many new cheeses on the market and I have been experimenting with Kite Hill, Parmela, Tofutti, etc., and I am on a mission to find you guys the perfect vegan ricotta cheese.  Personally, the only time I ever miss ricotta is in my Italian recipes like Lasagna, Manicotti and Eggplant Parmigiana which I love making for big crowds.  The jury is still out on which vegan ricotta is the best, but I will announce the winner in the next couple of weeks. Please chime in if you have a personal favorite so I make sure I try them all.  Hope you enjoy this plant-based easy vegan recipe as much as I did. Wishing you a peaceful and compassionate week!

Vegan Ricotta Gnocchi with Peas, Asparagus & Mushrooms
This recipe might seem a little intimidating but it is always fun to try something new.
Ingredients
Gnocchi
2 cups vegan ricotta (or 2 cups of mashed potatoes) If you use potatoes, you may need more flour depending on the wetness of the potatoes.
1 cup of flour
1½ teaspoons salt (divided)
½ teaspoon fresh ground pepper
2 flax eggs (2 tablespoons ground flax seed whisked into 6 tablespoons of water & refrigerate for 10 minutes or more to thicken)
¼ cup fresh chopped parsley or basil
Vegetables
1 teaspoon extra-virgin olive oil
15 mushrooms, chopped (white or brown)
1 shallot, chopped
1 cup fresh shelled fresh peas or ¾ cup frozen peas, thawed
1 bunch asparagus, trimmed
Fresh ground black pepper
salt to taste
⅛ cup vegetable broth
1-2 teaspoons of vegan butter (to add a little richness)
Chopped fresh chives & grated lemon zest for serving
Instructions
Combine the ricotta, ½ tsp salt, pepper, flax eggs in a food processor and process until smooth. Add flour & parsley and pulse until combined. Add more flour if necessary. The dough should be about the stiffness of pizza dough. If you don't know what pizza dough feels like squeeze your earlobe gently between two fingers and that is what your dough should feel like. It should hold together but still be moist.
Transfer the gnocchi mixture to a pastry bag or plastic bag. Chill until ready to use.
Vegetables
Bring a large pot of water to a boil with a pinch of salt. Add asparagus and cook until bright green and crisp-gender. About 1 minute or 2. Transfer to a bowl of ice water to cool. Slice asparagus into bite-sized pieces.
Reduce heat so water is simmering. Add 1 tsp salt. Cut ½ opening on bottom of gnocchi bag.
Working in batches, pipe dough into pot, cutting off 1 inch lengths with a paring knife and dropping into water. You should have about three batches. Make sure you don't crowd the gnocchi. As soon as each dumpling bobs to the surface, scoop it up with a slotted spoon and transfer to parchment lined cookie sheet. If the gnocchi fall apart, it can mean you let them cook too long or didn't combine the flour and dough well enough.
When you are done, reserve ¼ cup of cooking liquid.
Heat oil in a large skillet over mediut heat. Cook mushrooms and shallot until slightly softened. Adding a little vegetable broth if sticking rather than more oil.
Add gnocchi, asparagus, peas, butter, vegetable broth and reserved cooking liquid to skillet with morels. Cook, tossing gently, until vegetables are warm and peas cooked, about 2 minutes. Add more vegetable broth if you want more sauce.
Season with salt and pepper. Serve topped with chives, fresh basil or parsley and lemon zest.