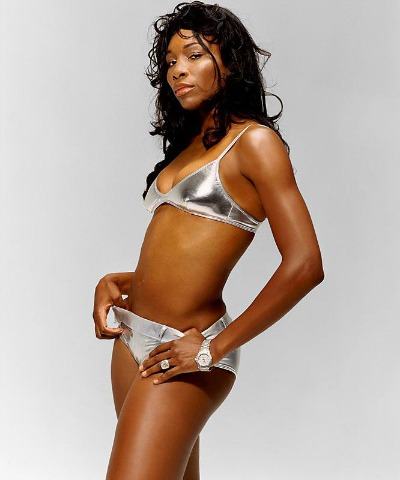 In August 2011, Venus Williams withdrew from the U.S.Open, citing a diagnosis of Sjogren's syndrome, an autoimmune disease that currently has no cure.
Her joint pain was so awful, she couldn't train or play in tennis tournaments. Rather than trying out drugs, her sister Serena encouraged her to consider changing her diet. Venus Williams was an avid beef eater and it must have been a difficult decision, but she choose to become a vegan.
Venus said, " I did a lot of medical therapy and a serious evaluation of my diet to understand which foods help control the symptoms better..and that's why I've completely changed my diet".  Fast forward to August 2012. Venus Williams wins a gold medal in doubles tennis at the Olympics. T
his is an extremely powerful message about the connection between food and disease. You don't have to have Sjogren's Syndrome to reap the benefits of a plant based diet. Becoming a vegan will improve anyone's health overall. Honestly, it is not as hard as it sounds.  and it can change your life.
Speaking of change, I enjoyed a wonderful, free meditation this morning courtesy of the Chopra Center's web site.
Today's theme focused on change. Change is difficult,  and how we all react to metamorphis in our life,  depends on the results we think it will bring. Sometimes the familiar becomes a false sense of security and fear prevents us from moving forward. Try not to be afraid of change.
Every major change in my life has been positive even though, at the time,  it might not have seemed that way.  I try to remember that when change is knocking at my door. I have a cheesy magnet on my refrigerator to remind me,  and it goes like this…..
Just when the caterpillar thought the world was over, it became a butterfly.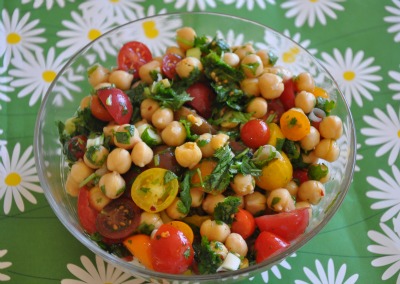 Chickpea Summer Salad
On to food.
Lately, my "go to" food has been chickpeas, also known as  garbanzo beans. Chickpeas are extremely high in protein and an excellent source of zinc and folate. They are also very high in dietary fiber,  which makes them,  a healthy source of carbs for people with insulin sensitivity or diabetes. Not only that, they are also low in fat and calories.
What more could you ask for? Y
ou can buy them fresh or in a can. I use them for salads, soups, hummus and sandwiches. I like to mash them, add vegan mayo, (celery and onion if you like) and spread on sliced bread with tomatoes, sprouts and avocado. So yummy.
Tonight I made a simple, fresh and delicious high protein summer chickpea salad. Hope you enjoy it.

Chickpea Summer Salad with Tomatoes and Cilantro
CHICKPEA SUMMER SALAD WITH TOMATOES & CILANTRO
Ingredients
Salad
2 cans of chickpeas, rinsed
1 pint cherry tomatoes (preferably heirloom while they last), halved
½ bunch cilantro, chopped (or more to taste)
5 green onions, sliced
Dressing (If you like a heavier dressing - just make more. I usually keep mine light)
2 teaspoons extra virgin olive oil
3 tablespoons fresh lemon juice
Pinch of red pepper flakes (to taste)
Salt & Pepper (to taste)
Mix oil, lemon juice, chili flakes together
Mexican inspired Alternative Dressing with Lime
2 teaspoons extra-virgin olive oil
3 tablespoons lime juice
¼ tsp ground Chipotle chile powder (or hot sauce)
½ tsp milder chile powder
¼ tsp ground cumin
Zest from lime
Salt, Pepper, Red Chili flakes to taste
Instructions
Toss chickpeas, tomatoes, cilantro and green onions with dressing. Adjust seasonings