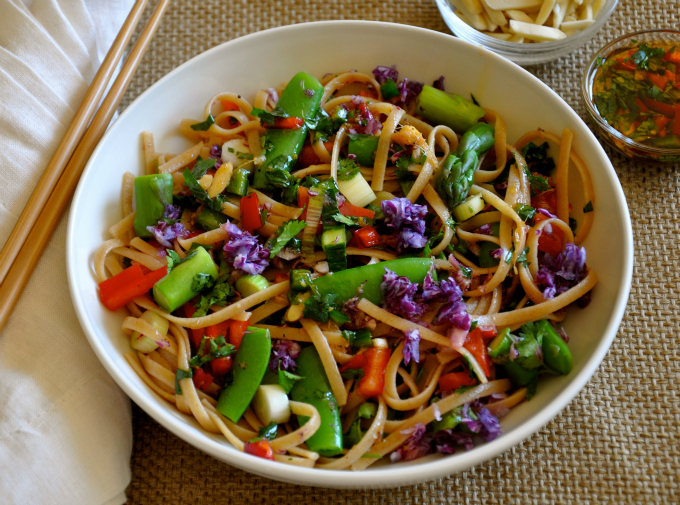 I'm Italian and there is nothing like a big bowl of pasta to make me happy.
Today I made a whole wheat pasta salad with an Asian touch. I always use whole wheat pasta because it contains complex carbohydrates and is an excellent source of fiber. It is also lower on the glycemic index than white pasta.
If you are wheat intolerant, I recommend trying rice or quinoa pasta. Also, any pasta shape works in this dish. Hope you enjoy this easy and healthy Asian pasta salad recipe as much as I did. Don't miss any of Ordinary Vegan free recipes by signing up here.
Wishing you a compassionate and peaceful week.
Asian Pasta Salad with Kale, Cabbage, Asparagus and Sugar Snap Peas
Spicy Asian Pasta Salad
The wonderful thing about this salad is anything goes. Your noodles and your dressing are the base and you can add any vegetables you love. You can also use any chilis you desire. I used a combination of red and green for color.
Ingredients
Dressing
2 limes, juiced
¼ cup organic pure maple syrup
4 Tablespoons organic canola oil
5 Tablespoons soy sauce
1 Tablespoon rice wine vinegar
1 Tablespoon of chili oil (I recommend adding a teaspoon at a time depending on heat of chili oil) Or you can use sesame oil
2 inches of Fresh Ginger, chopped or grated (grated brings out more of the flavor)
1 Fresno chili, chopped (or more to taste)
½ Jalapeno, chopped (or more to taste)
2 Cloves of garlic, chopped
¼ chopped fresh cilantro
Salad
1 16-ounce package of whole-wheat linguine noodles, cooked and rinsed (or any noodles you prefer)
1 Red Bell Pepper, chopped
2 cups of kale or spinach, cut into ribbons
1 cup purple cabbage grated (0r napa cabbage) (or more to taste)
8 asparagus spears, cut into 1½ inch chunks, steamed al dente
½ - ¾ lb sugar snap peas, trimmed and steamed al dente
4 green onions, chopped
¼ cup chopped fresh cilantro
Fresh Ground Black Pepper to taste
¼ cup sliced almonds, optional
Instructions
Pasta, Asparagus & Sugar Snap Peas
Cook pasta according to cooking instructions.
Place the sugar snap peas and asparagus in a steamer over the boiling pasta water. Steam for 2-3 minutes keeping them crisp and green.
Dressing
Whisk together all the ingredients and set aside.
Salad
Combine salad ingredients. Add cooked pasta. Whisk the salad dressing and pour over the salad a couple of spoonfuls at a time so you don't overdress. Taste and add ground black pepper to taste.
Garnish with fresh cilantro and nuts if desired. Serve with some extra dressing on the side.