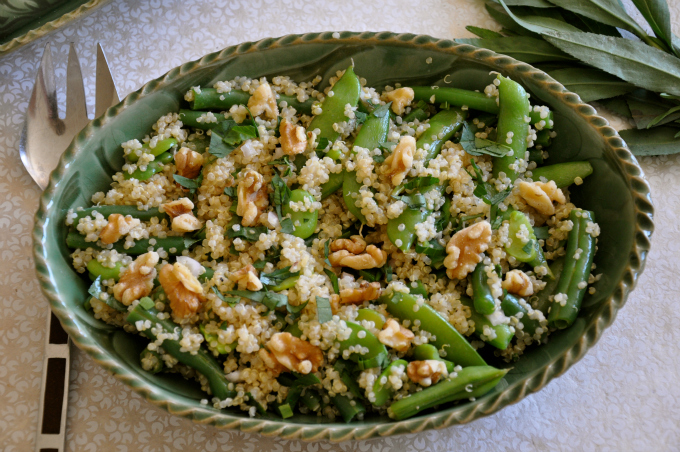 Bean Salad with Quinoa, Walnuts & Tarragon
Lately,  I have been thinking about freedom. More specifically – freedom of will.
Many of you have reached out to me and expressed your desire to embrace a plant-based life, but don't believe you can do it. The truth is anyone can do it. How free are we if we are controlled by our habits, desires, heredity and deep tendencies? How do we rise above those powerful habits and inclinations?
It all starts in the mind,  and it is the mind that will bring us freedom. Slowly start planting seeds in your mind. Seeds of faith. Seeds that say "you can do it". Water the seeds everyday with positive affirmations.
The more seeds you plant, the harder it will be to deter you from your goal. We all have that infinite power. Your mind has unlimited potential, but you have to use it.  When you achieve one goal, your freedom is immediate, and that pattern will help you achieve any goal you have.
Remember, you don't have to be perfect. The effort is all that counts. The seeds will grow. You have the power to will it and be on the road to freedom, not only from unhealthy food, but from all your suffering.  Stay strong and let me know if there is anything I can do to help. On to food.
Spring is here, and I love roaming the aisles of the Farmer's Market for spring and early summer organic vegetables. Sunday it was all about beans. Green beans, lima beans, fava beans and sugar snap peas.
Right next to the fava beans was a beautiful bouquet of tarragon. Often used in French cooking tarragon has long, soft green leaves and a distinctive aniseed flavour. I use it sparingly because it can overpower a recipe. When I got home I made a bean salad with quinoa, tarragon and walnuts.
Everyone loved it. Unfortunately, no left overs for me today, but that's ok. I take pleasure in cooking for people I love. Hope you enjoy this bean salad with quinoa as much as we did.

Bean Salad with Quinoa, Walnuts & Tarragon
Ingredients
1 pound green beans, ends trimmed
1 pound fava beans, shelled
½ pound sugar snap peas
1 tablespoon of chopped taragon (add more according to your taste buds)
½ cup walnuts, coarsely chopped (you can lightly toast them for added flavor)
1 small shallot, minced
¾ cup cooked quinoa
For the dressing
2 tablespoons red wine vinegar
1 tablespoon lemon juice
salt and freshly ground pepper
1 teaspoon Dijon mustard
1 garlic clove, minced
¼ cup extra virgin olive oil
Instructions
Bring a pot of water to a boil, add salt to taste and add the green beans. Boil for 1 minute - add sugar snap peas - boil green beans and sugar snap peas for another 3 to 4 more minutes, until just tender. Transfer to a bowl of cold water, then drain and set aside. Use a skimmer so you don't have to drain the boiling water.
Skin the favas. Fill a bowl with ice water. Bring the water in the pot back to a boil. Drop the shelled fava beans into the boiling water and boil 2 to 3 minutes. 4 to 5 minutes if the beans are bigger than your thumbnail. Drain and transfer immediately to the cold water. Allow the beans to cool for several minutes, then slip off their skins by pinching off the eye of the skin and squeezing gently. Pinch off the eyes. Have a bowl close at hand because this takes a few minutes but worth it.
Stir together the vinegar, lemon juice, salt, pepper, mustard and garlic. Whisk in the oil. Toss with the beans, cooked quinoa, walnuts, tarragon and shallot,, and serve.