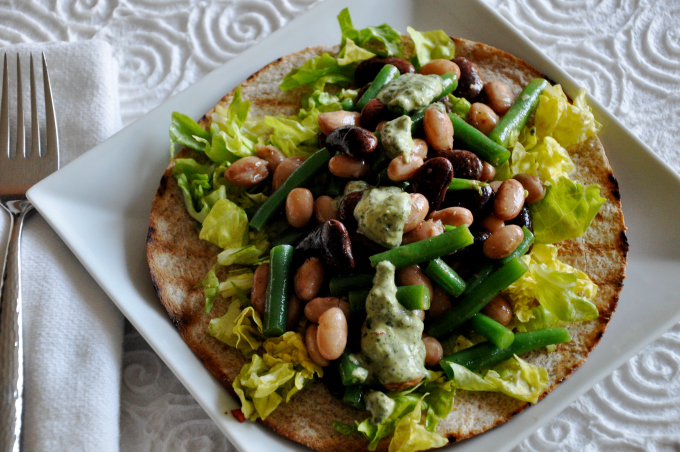 Bean Tostada with Scarlett Runner & Cranberry Beans and Avocado Cilantro Aioli
Beans are like gold to a vegan. They are protein rich and high in fiber and antioxidants.  If you are looking to lose weight, beans are great for weight loss because they make you feel full longer and help curb cravings. Beans also provide little to no fat and are cholesterol-free. In fact, they actually lower cholesterol.  The good news is, beans don't have to be boring especially in this nutritious bean tostada.
I searched online for dried beans and discovered a place called Rancho Gordo.  They had so many varieties of heirloom beans that I had a hard time choosing , so I went a little bean crazy and bought four varieties. Today I tried the scarlet runner and cranberry beans. What struck me immediately was how different each bean tasted. The scarlet runner is a beautiful violet bean speckled with black and has a meaty feel. The cranberry beans have a mild chestnut like flavor. The combination was perfect especially paired with the crisp green beans and the Mexican inspired vinaigrette and spices. I recommend soaking your beans from 2 hours to overnight to cut back on cooking time. Also, cook your different varieties in their own pots because cooking time will vary for each bean. By the way, if you don't have heirloom beans, traditional black or white beans will work fine. Hope you enjoy this bean tostada recipe as much as I did. Wishing you a peaceful and compassionate day!

Scarlett & Cranberry Bean Tostada with Avocado Cilantro Aioli
You can replace these scarlett and cranberry beans with any heirloom beans you love or that are available. You can also use black beans.
Ingredients
2 cups trimmed green beans
1½ cups total of of two varieties of dried heirloom beans, soaked seperately for 2 hours
3 bay leaves
1 small onion, cut into slices
3 to 4 jalapeno chiles, stemmed, seeded, and minced
6 green onions, trimmed and sliced
6 6 inch corn tortillas
1½ cups shredded lettuce
1 ripe avocado, halved and seeded (one half sliced for serving - the other half for aioli)
Avocado Aioli
1 bunch cilantro
1 lime, juiced
¼ cup vegan mayonaisse
¼ cup avocado
salt and fresh ground pepper, to taste
Vinaigrette
3 tablespoons sherry vinegar
2 tablespoons extra-virgin olive oil
½ tablespoon maple syrup
½ tablespoon dijon mustard
1 to 2 canned adobe chipotle chiles, stemmed, seeded and minced
salt & ground black pepper to taste
Instructions
Add drained beans to two seperate saucepans. Cover with water. Add bay leaves and onion slices evenly between pots.
Bring to a boil, and then reduce heat, simmering gently, covered for 45 to 70 minutes or until beans are softened and creamy inside. Keep checking them so they don't overcook.
Remove from heat, rinse and cool to room temperture.
Cut greenbeans into thirds and steam for 3 to 4 minutes or until bright green and still have a little bite. Remove cover and remove from heat so they don't overcook.
In a large mixing bowl, whisk together the olive oil, vinegar, maple syrup, mustard, chipotle peppers and salt and pepper to taste.
Add to the mixing bowl all cooked beans, jalapenos, green onions and gently toss to evenly coat. Taste and adjust salt and pepper.
In a food processor, add the cilantro, lime juice, vegan mayonaisse, salt and pepper. Pulse until the cilantro is finely chopped.
On a hot grill pan, heat the tortillas on both sides until crispy with grill marks. You can also use a saute pan.
To Serve:
Put a little cilantro aioli on each tostada and top with shredded lettuce. Mound bean salad mixture on top and garnish with avocado slices and/or more avocado aioli. Serve immediately.