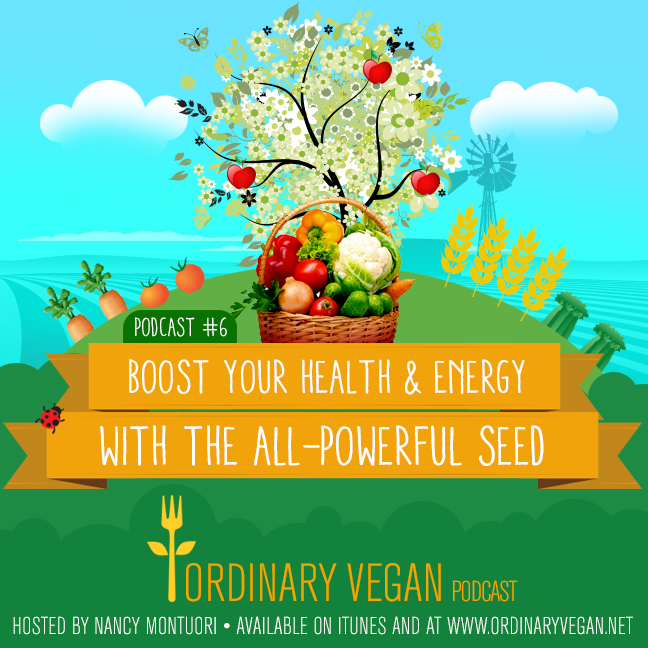 Incredible Health Benefits of Chia, Hemp and Flax Seeds
When I began my plant-based journey, it was tough for me to wrap my head around all the new, exotic and unfamiliar seeds available.  But when I realized the health benefits of chia, hemp and flax seeds, I knew I had to learn how to work them into my everyday life.
After four years of research and experimenting, I discovered which seeds were the most beneficial to my health and which seeds I should use daily. In today's podcast, I share with you all the health benefits of chia, hemp and flax seeds.
Each seed we discuss has its own unique qualities and benefits.  For example, chia seeds benefits are massive. They have twice the protein of any other seed or grain, and five times the calcium of milk. They also deliver an enormous amount of nutrients with very few calories.
You can use chia seeds in a variety of ways and here is today's podcast recipe for chia gel.
The Basic Gel
Simply add 1/2 cup of seeds (2oz) to 2 cups of water. Whisk the mixture well to avoid clumping. Wait ten minutes and whisk again then leave it in your fridge in a sealed jar. This will yield around 17oz of chia gel. You can begin to eat the gel almost immediately if you like. Just 10 minutes is enough time for the gel to be formed. More of the nutrients will be easily accessible after a few hours in the fridge.
You can also include the benefits of chia in this Chia Seed Plant-Based Power Breakfast.
We also discuss my favorite seed – hemp seeds. The beauty of hemp seeds is that they are rich in healthy fats and essential fatty acids making them a perfect protein.  I call it a nutritional giant.
You can use hemp seeds in a variety of way and here is today's podcast recipe link for Hummus and Hemp Seed Pita Pockets.
The last seed we discuss is ground flax seeds. One of flax seeds biggest health benefits comes from its ability to promote digestive health because of the ALA also known as alpha-lipoid acid. ALA can help protect the lining of the digestive tract.
You can use ground flax in a variety of ways and here is today's podcast recipe for flax eggs.
Simply mix two tablespoons of ground flax with six tablespoons of water. Whisk and put into the refrigerator for 10 minutes to thicken. Flax eggs are best suited as an egg substitute in waffles, pancakes, muffins or any baked goods.
**NOTE – The best way to consume flax seeds is ground flax seeds. Whole flax seeds are hard for the body to absorb.
We also discuss why all vitamin supplements are not created equal. Most supplements are manufactured synthetically with chemicals and additives and do not come straight from their natural sources. On the other hand, whole food supplements are made from concentrated whole foods enabling the full vitamin supplement to do the full job. Learn more in today's podcast.
I would like to say thank you to our new sponsor ALOHA.COM. Aloha, like me, believes the best nutrients come from clean, plant-based whole foods. Aloha provides nutritional products to help you maintain a healthy life-style. If you need a supplement, they supply what we discuss in today's podcast, whole-food, non-GMO supplements. They also have a variety of snacks, natural sweeteners and teas. Aloha is offering the Ordinary Vegan community a free trial of their Essential Tea Collection. These teas will help you relax the mind, body, and spirit and contain two sleep teas, two energy teas, and two smart teas. All you have to do is go to Aloha.com/vegan for all the details.
If you have any questions regarding today's podcast, please message me here or at questions@23.235.200.4. If you get a minute, please write a review on iTunes. The more reviews the podcast gets, the more prominently it will be featured which means reaching more people with our plant-based message.
Thanks for listening to today's podcast and thanks for being part of our healthy community.