Vegan Chocolate Cupcakes
VEGAN – DAY 59
Forgot to mention in yesterday's blog that my doctor weighed me Monday and told me I lost 6 lbs since May 17.
I was pretty surprised since I am smaller anyways and didn't realize I lost that much but the place that I have noticed the most weight loss has been the fat around my stomach and waist. It has disappeared. I guess that is where all the dairy & meat based fats used to go and the place where most women gain weight.
So to celebrate I made the most delicious vegan chocolate cupcakes in the world. These won first place on the Food Network's Cupcake Wars from vegan baker Chloe Corscarelli.
She took a huge risk by presenting her all vegan cupcakes at a non-vegan competition but the judges gave them rave reviews. She was the first vegan to win a Food Network competition. Congratulations Chloe! I topped mine with cacao nibs which are a proven natural food for many things including brain health, cognitive, mood and bliss-enhancement (thanks to the theobromine in pure cacao). Most chocolate you buy has a very small amount of cacao and lots of milk, fat, artificial flavorings etc.
Cacao nibs are the real thing – pure chocolate and a mayan superfood. Vegan or non-vegan – these cupcakes are as delicious as any cupcake I have ever had and super easy! Hope you enjoy these vegan chocolate cupcakes as much as I did.

Vegan Chocolate Cupcakes
Serves:
Makes 12 cupcakes
Ingredients
Cupcakes
11/2 cups flour
1 cup sugar
⅓ cup unsweetened cocoa powder (I use Navitas organic non-prcoessed pure cacao powder)
1 tsp baking soda
½ tsp salt
½ cup vegetable oil
2 tbsp distilled white vinegar
2 tsp. vanilla extract
1 cup water
Frosting
⅔ Cup nonhydrogenated vegetable shortening
2⅔ cup sifted powder sugar
2 tsp vanilla extract
about 4 tbsp nondairy milk (such as soy, almond or rice)
Instructions
Pre-heat oven to 350 degrees - Line a 12-cup muffin pan with cupcake liner
Make cupcakes: In a large bowl, whisk flour, sugar, cocoa, baking soda and salt. In a separate bowl, whisk together 1 cup water, the oil, vinegar and vanilla. Pour wet mixture into dr mixture and his until just combines.
Divide batter amend cupcake cups. Bake until a toothpick inserted into a cupcake comes out clear, 15-20 minutes. Let cupcakes cool completely in pan.
Make Frosting: Using an electric mix, beat shortening, 2⅔ cups powdered sugar and the vanilla together to mix. Beat in nondairy milk 1 tbsp at a time and beat until frosting is smooth and fluffy.
Smooth about 1 tbsp frosting onto each cupcake and top with a combination of chopped walnuts and cacao nibs or a few sliced strawberries.
Notes
Chloe likes to cut the tops off cupcakes and set aside. She smoothes about 1 tbsp frosting onto each cupcake and covers with a few strawberries. Replace top, then add a dollop of frosting and a few tiny slices of strawberry. Put remaining 1 tbsp powdered sugar in a fine met strainer and dust cupcakes with sugar. That is a fancier version.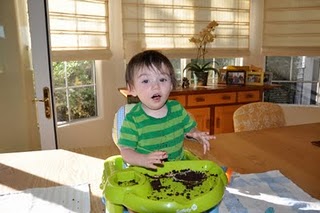 As you can see – my Godchild loved his vegan chocolate cupcake