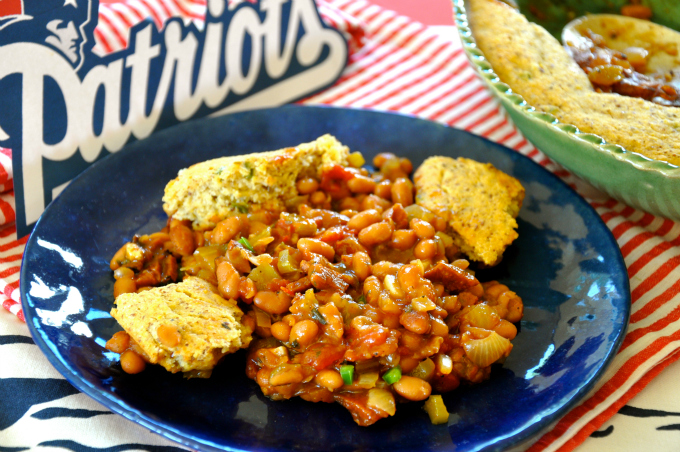 Post From January 2015:
It's that time of year again.
Super Bowl 2015 has arrived. This year I wanted to show my support to both teams by creating a lucky plant-based Super Bowl signature dish that highlights the most iconic foods of both regions.
Today I started with New England. What could be more New England than a Boston baked beans casserole with jalapeño cornbread?
Beans and cornbread were a staple in colonial New England, and local native Americans baked cornbread in Earthen pots and called it mazium. The native Americans also baked beans before the pilgrims arrived and sweetened it with maple syrup as do I.
If you have never been to New England, it is one of the most beautiful and charming states in the country. I know I may be a little prejudice since I am a Boston girl, but even after all these years, its beauty still takes my breath away. Hope you enjoy this delicious, plant-based recipe as much as I did.
Seattle fans, I promise to have a plant-based regional dish for you this week too. By the way, this was so yummy, I just couldn't stop eating it. Hope you have a safe and compassionate Super Bowl Sunday.
Boston Baked Beans with Jalapeño Cornbread
Spicy Boston Baked Bean Casserole with Jalapeño Corn Bread
I used a vegan bacon made by a company called
Sweet Earth.
It was very yummy but if this is not available, no worries, it tastes delicious without any vegan bacon. Also, if you used fresh dried beans, you may need more liquid so they stay moist and bubbly. I would recommend adding some vegetable broth or more tomatoes if needed.
Ingredients
Jalapeno Corn Bread
1 cup flour
1 cup of organic yellow cornmeal
¼ cup maple syrup
1 tablespoon baking powder
1 teaspoon salt
3 flax eggs (3 tablespoons ground flax seed combined with 7½ tablespoons of water. Whisk together and refrigerate for 10 minutes to thicken)
½ cup unflavored non-dairy milk
¼ cup applesauce
2 tablespoons chopped jalapeno, seeds removed (optional)
Baked Bean Casserole
2 13 ounce cartons cooked Organic Boston Baked Beans or you could use fresh by soaking 1 cup of haricot beans also called navy beans overnight.
¼ vegetable broth (or more for sauteing)
1 small onion, chopped
2 celery stalks, chopped
3 cloves garlic, chopped
2 dried chipotles, torn open and seeds removed
1 teaspoon dried oregano
2 bay leaves
2 tablespoons maple syrup
1 cup chopped tomatoes (canned or fresh)
3 strips of Sweet Earth Hickory & Sage Smoked Seitan Bacon, chopped (optional)
Instructions
Corn Bread batter
Combine the dry ingredients. Add the wet ingredients and jalapenos. Stir togethere until evenly moistened. Do not overmix. Set aside.
If you are using dried beans - Rinse the soaked beans and add water to cover by an inch. Bring to a boil and than reduce to a simmer until tender. This will take at least an hour or longer. Add more water if necessary.
Put the dried chipotle in a bowl and cover with boiling water. When cool enough to handle chop into small pieces.
Heat the oven to 375 F. In a large saute pan, heat the vegetable broth. Add the onion, celery, chipotle and bacon (if using) and saute until soft and translucent. Add the oregano and garlic and cook for another two minutes. Add the remaining ingredients including beans and bring to a simmer. Transfer to a casserole dish. Top with corn bread batter. Bake in oven for 30-40 minutes or until cornbread is golden and toothpick comes out clean. You can also cook the cornbread separately in a 12-cup greased muffin tin or 9 x 9 baking dish. Cooking time may be less.