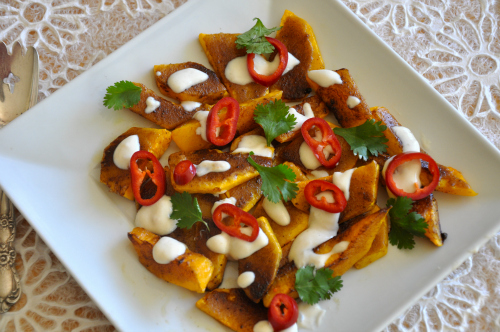 Roasted Butternut Squash with Sweet Spices & Chiles
I love butternut squash. Unfortunately, before I became vegan, I only ate it a couple of times a year. Now I love finding new ways to enjoy this fabulous fruit. Yes, I said fruit. Butternut squash is technically a fruit because it contains seeds like melons, and cucumbers. It is low in fat and delivers a nice dose of dietary fiber, making it an exceptionally heart-friendly choice. It also provides significant amounts of potassium, essential for bone health, and vitamin B6 to boost your immune systems. As if this weren't enough, butternut squash has anti-inflammatory effects because of its high antioxidant content, which could help reduce the risk of inflammation-related disorders such as arthritis and asthma. This recipe is a little exotic and fun, and definitely gets people's attention. Hope you enjoy this butternut squash recipe as much as I did.

Roasted Butternut Squash with Sweet Spices & Chillies
Vegan butternut squash with sweet spices and chili
Ingredients
Salt & pepper
3 Tbsp olive oil
1 medium butternut squash (about 2 lbs)
2 tbsp cardamom pods
1 tsp ground allspice
¼ cup soy yogurt
1¼ tbsp tahini
1 tbsp lime juice
1 green or red chile, thinly sliced
⅔ cup picked cilantro leaves
Instructions
Preheat oven to 400 degrees F.
Cut the squash in half lengthways, scoop out the seeds and discard. Cut each half, top to bottom, into ⅜" slices and lay them on out on a large baking sheet lined with parchment paper. I like to take the skin off but you can serve with the skin on.
Place the cardamom pods in a mortar and work with a pestle to get the seeds out of the pods. Discard the pods and work the seeds to a rough powder. Transfer to a small bowl, add the allspice and the olive oil and stir well. Brush this mixture over the butternut slices. Sprinkle with a pinch of salt and place in the oven for 15-20 minutes or until tender when tested with the point of a knife. Remove from the oven.
Meanwhile, whisk together the yogurt, tahini, lime juice, 1 tbsp of water and a pinch of salt and pepper. The sauce should be thick but runny enough to pour. Add more water if necessary.
To serve, arrange the butternut slices on a serving platter and drizzle with the yogurt sauce. Scatter the chile slices over the top. Garnish with the cilantro.
Optional - you can also garnish with very thin peeled slices of lime.