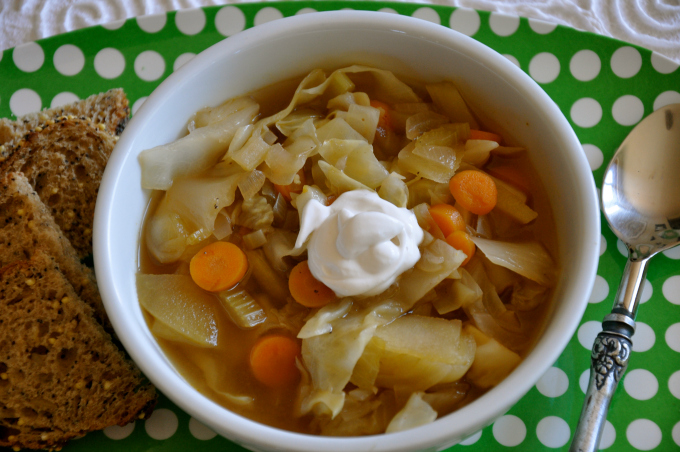 I have heard many sad stories this week. Unexpected painful losses that are hard to understand. It makes me think of something Big Papi of The Boston Red Sox said after winning a world series playoff game last month. He said:
"This is one tiny life – so show up"
I know I say this a lot, but it is worth repeating.
Life is fragile and fast and sometimes we need to shake our foundation to recognize our full potential. Otherwise, we remain in our cages our entire life. Never experiencing the real joy and happiness we deserve.
If something is holding you back, it is time to come face to face to what it is. If you really want to know why you do things, stop doing them and see what happens? What you will see is you are constantly trying to stay in your comfort zone. Go beyond your cage. Life is too precious and tiny not to appreciate.
Now on to food.
As many of you know, I love cabbage and I especially love sweet and sour cabbage soup. A rich, savory and tart aromatic broth is the base of this cabbage soup. The brown sugar adds the sweetness. The green apples add the tartness and the red wine adds the richness. Nothing could be better on a cold, cozy night. I like to serve it with a rustic toasted bread.
Hope you enjoy this sweet and sour cabbage soup as much as I did.
Don't miss any of Ordinary Vegan's recipes by signing up here..
Ordinary Vegan now has a podcast on plant-based nutrition and vegan recipes. You can listen here on this website or in iTunes.
Join our health and wellness community on Facebook. There are over 315,000 strong, vibrant community members waiting to embrace you.
Thanks for stopping by and hope you have a peaceful and compassionate day.
Sweet and Sour Cabbage Soup
Ordinary Vegan Sweet and Sour Cabbage Soup
Ingredients
⅓ cup vegetable broth for sautéing
1 small white onion, chopped
2 carrots, chopped
2 stalks of celery, chopped
1 tablespoon extra virgin olive oil
½ cup apple cider vinegar or red wine vinegar
¼ cup + ⅛ cup packed light brown sugar
1 bay leaf
2 whole cloves
One 1¼ pound cabbage, (red or green), trimmed, quartered, cored and sliced
2 cups vegetable broth
2 tart green apples, peeled, cored and cut in ⅛ inch slices (8 ounces)
½ cup Cabernet Sauvignon (optional)
Salt to taste
½ teaspoon freshly ground black pepper
vegan sour cream for topping
Instructions
In a saucepan, heat ⅓ cup vegetable broth and saute the onions and celery until translucent approximately three to five minutes.
Add the vinegar, brown sugar, and wine if using, bay leaf and cloves and bring to boil over high heat.
Add the cabbage and additional vegetable broth, reduce the heat and simmer partially covered, for 30 minutes.
Add more vegetable broth if needed.
Add the apples and carrots and simmer, uncovered for about 20 minutes longer. Remove from the heat.
Discard the bay leaf and the cloves. Season with more salt and pepper if needed. Serve with a dollop of vegan sour cream.