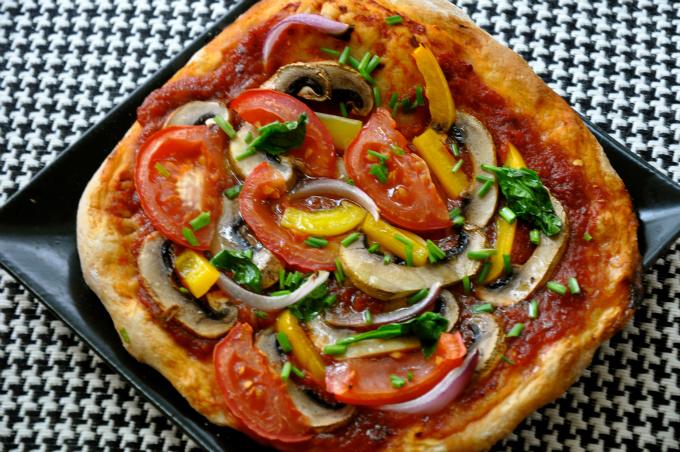 Before we talk about this delicious gluten-free cauliflower crust, I want to share a story.
Yesterday, I received a surprise in the mail. It was a letter I wrote to a friend when I was only 17-years-old. My childhood girlfriend was kind enough to send it to me. The first thing that struck me was my rapid-fire jokes. I'm not saying they were funny, but I made a joke in every other sentence I wrote. It is the opposite of what I recall about myself.
I remember my 17-year-old self as a serious girl who hated injustice. I could whip up a protest sign in a matter of minutes. I recall a day when I was the only person outside my High School protesting and yelling: "What do you want? Peace. When Do You Want It? Now!"
Who does that?  Who protests alone? I still do hate injustice, but I also have a strong need to make people laugh.
Kind of yin and yang. That letter gave me some insight into myself, and it got me thinking about how I ended up here, today, writing this blog and why I try to encourage people to live a healthy vegan life.
It didn't take me more than a minute to figure out that this blog is another form of protest against injustice. So who am I revolting against now? How about food companies who put harmful ingredients in our food and spend millions of dollars to market that food as a health benefit.
Many people are needlessly suffering from food-related diseases like type-2 diabetes,  and it's not their fault. Or how about the greedy cattle and dairy industry who are robbing the planet of its valuable resources. Or factory farms that use unnecessary cruelty towards animals for higher profits.
I don't write much about injustice on this blog, but in a gentle way this is what I am doing. I'm protesting.
Fortunately, I found a new format to express my objections:  my recipes. Whenever someone discovers a plant-based recipe that they love, the closer they inch to a plant-based lifestyle.
I don't need a sign anymore because I know that once people discover that they can live a healthy life, help the environment and protect animals by eating delicious, plant-based food, they will be ready to go all in.
Then, like me, they will find joy in inspiring others.
Speaking of delicious, healthy plant-based food. How about sneaking a little cauliflower into your children's pizza with this gluten-free cauliflower pizza crust.
I know a four-year-old who loves it, and he hates cauliflower.
This week I topped mine with tomato sauce, mushrooms, peppers, tomatoes, and red onion. Yum! Hope you enjoy this plant-based, gluten-free cauliflower crust as much as I did. Before you go, make sure you sign up for all our free vegan recipes.
Thanks for stopping by. You can find all my organic, vegan CBD Oil from hemp products here. CBD oil has shown promise as a treatment for many ailments. If you have any questions about how CBD oil can help you, email me at questions@ordinaryvegan.net.
Gluten-Free Cauliflower Pizza Crust
Gluten-Free Cauliflower Pizza Crust
You can mix this dough in a stand up mixer or by hand. I recommend cooking your pizza on a pizza stone that has been heated in a 500 degree oven for at least 30 minutes. I also recommend using white rice flour over brown rice flour for pizza dough if you are going gluten-free.
Ingredients
1½ cups cauliflower florets
1½ - 2 cups flour (For gluten-free - rice flour or gluten-free flour. Rice flour makes it a bit denser)
1 tablespoon extra-virgin olive oil
1 package of active dry yeast
1½ cups warm water (approximately 110 degrees)
1 teaspoon salt
organic corn meal for dusting
Instructions
Pre-heat oven to 425 degrees F. Place the cauliflower on a baking sheet lined with aluminum foil. Bake for 20-25 minutes or until the cauliflower is a little brown and soft. Remove from oven and place into a food processor. Process until you get cauliflower crumbs. Set aside to cool.
Whisk together the yeast and warm water. Set aside for 10 minutes. Add the olive oil to the mixture.
Using a stand mixer: Combine the flour, cauliflower crumbs and salt in to mixing bowl using the dough hook. Add half the yeast mixture and start kneading on low. Scrape down the sides. Add more water and continue kneading on medium until the dough comes cleanly away from the sides. Add more flour or water if needed. Turn out onto a floured work surface and knead by hand for another couple of minutes. The dough should be smooth and elastic. When you press it with your finger it should slowly spring back.
Transfer the dough to a lightly oiled bowl. Cover the bowl tightly with plastic wrap, and leave it in a warm spot to rise for 30 minutes or up to an hour.
Divide the dough into 2 to 4 equal balls, depending on how large you want your pizza to be. Shape each ball by gently pulling down the sides of the dough and tucking each pull under the bottom of the ball, working round the ball 5 times. Then, on a smooth surface, roll the ball under your palm until the ball feels smooth and firm, about 1 minute. Put the balls on a large platter, cover with plastic wrap or damp towel and let them rest for another 30 minutes. At this point the dough can be covered with plastic wrap and refrigerated for 1 to 2 days. When ready to use, remove from refrigerator and let rest for covered for 15 minutes to reach room temperature.
Place a pizza stone into the oven and preheat the oven to 500 degrees F. Let the stone heat up for approximately 30 minutes or more.
Place a ball of dough on a lightly floured surface. Spread it out to a circle with the palm of your hand or floured rolling pin.
Dust a pizza paddle with organic corn meal and place the pizza circle on top. Spread the dough with your favorite toppings. I like to add a pinch of olive oil on top and slide the pizza onto the baking stone or into a pizza pan. Bake until the rim of the crust is deep golden brown, about 10 minutes.