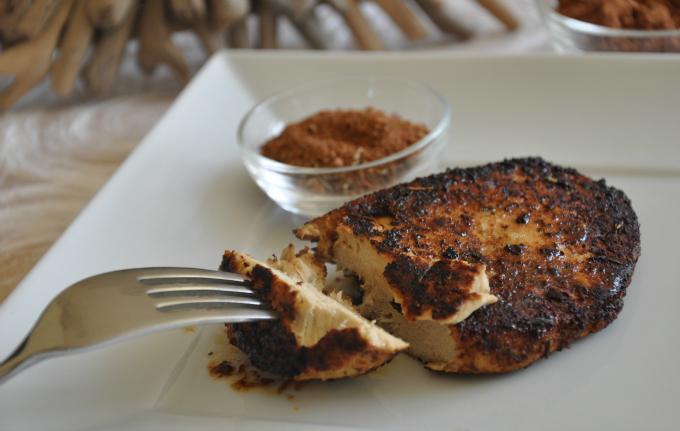 Cocoa & Spice & Everything Nice Vegan Chicken Breasts
It started with a wrong number.
There is nothing worse than being awoken by a telephone in the middle of the night. When I answered the phone, no one responded, but I could hear breathing in the background. I said, "Is anyone there?" There was no answer. I hung up.
My heart was pounding. The phone rang again, but this time I let the answering machine pick it up. No message was left,  and no caller ID. After awhile, I finally fell back to sleep,  but I was restless for the rest of the night.
When I awoke the next morning, I had an uneasy feeling about my day, and I was right.
That afternoon, I picked up my Godchild from school. We were driving home when suddenly parked at a red light, my car was slammed from behind.
The impact was so loud,  and all I could hear was screeching tires, grinding metal and busted glass. When I turned around and looked at my Godchild in the back seat, and realized he was ok, I have never felt more relieved in my life.
Later, when I surveyed the damage, I realized we were extremely fortunate not to have been hurt.
For the next couple of days, I couldn't shake that uneasy feeling of how dangerous life can be.
You are probably thinking, that I am taking this a little too hard, but the truth is I take my Godchild's safety very seriously. It was so difficult for me to accept that I honestly didn't have any control over the accident…. or anything for that matter.
No matter how safe we try to be in life, some truck can come barreling down a street and hit your car.
It got me thinking about how many years I spent striving to feel safe. In the last couple of years, it has required a dedicated spiritual practice to find peace in the face of not feeling safe, but here I was facing down my demons again.
But there is a silver lining.  I learned a powerful lesson this week, and that is I still have not learned the art of surrender.
I am still using good energy trying to plan, predict, and prevent things that I cannot possibly plan, predict or prevent. I tell everyone, let the universe take you, and although I have been talking the talk, I have not been walking the walk.
It is actually liberating to acknowledge this powerlessness,  and I am now ready to surrender. I am no longer in control.
Now, on to food.
Today I am having a couple of my newbie vegan friends over for lunch,  and a cooking lesson. We are going to make these Cocoa Spiced vegan chicken breast.
They are so simple and incredibly delicious.
I love Gardein products especially the Chick'n. They are moist and have a wonderful texture, and I often use them in my vegan cooking. Hope you enjoy them!
Don't miss any of Ordinary Vegan's recipes by signing up here..
Ordinary Vegan now has a podcast on plant-based nutrition and vegan recipes. You can listen here on this website or in iTunes.
Join our health and wellness community on Facebook. There are over 315,000 strong, vibrant community members waiting to embrace you.
Thanks for stopping by and hope you have a peaceful and compassionate day.
Cocoa & Spice & Everything Nice Vegan Chicken Breasts
Cocoa & Spice & Everything Nice Vegan Chicken Breasts
Ingredients
1 package of Gardein Tuscan Chicken Breasts (2 per package)
2 tablespoons firmly packed brown sugar
1 tablespoon Italian seasoning
2 teaspoons onion powder
2 teaspoons unsweetened cocoa powder
1½ teaspoons garlic powder
1 teaspoon paprika
½ teaspoon ground red pepper flakes
½ teaspoon cumin
¾ teaspoon salt
½ teaspoon ground black pepper
1 tablespoon olive oil
Instructions
Preheat oven to 350 degrees F.
In a small bowl, combine brown sugar, Italian seasoning, onion powder, cocoa powder, garlic powder, paprika, red pepper flakes, cumin, salt and black pepper.
Transfer spice mixture to a shallow bowl.
Dredge each chicken breast in the spice mixture until well covered.(Gardein's Tuscan Breasts come with a packet of red sauce, put this aside for another dish.)
Add oil to a large nonstick skillet over medium-high and heat until hot.
Add dredged gardein breasts and cook for 3-5 minutes per side, or until browned and crisp.
Finish in the oven for 10 minutes.