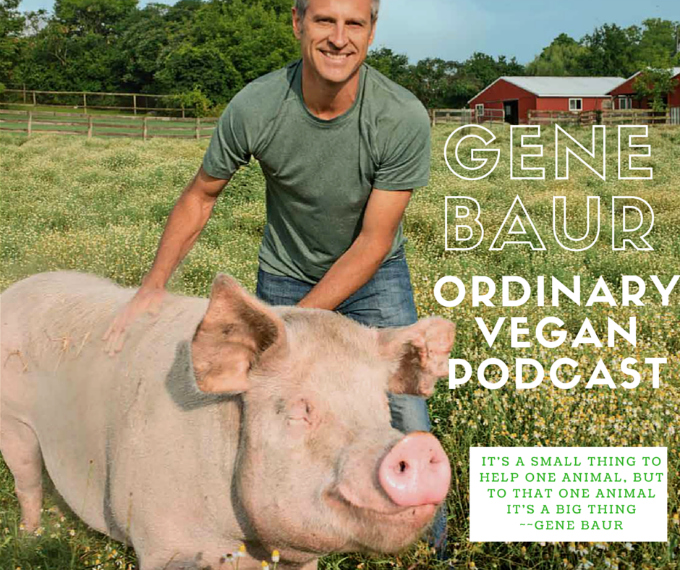 I'm extremely excited to welcome Gene Baur to the Ordinary Vegan Podcast! Gene is the co-founder and President of Farm Sanctuary, America's leading farm animal protection organization. Gene Baur has been hailed as "the conscience of the food movement" by TIME magazine. For 25 years he has traveled extensively, campaigning to raise awareness about the abuses of industrialized factory farms.
What I love most about Gene Baur is his non-judgmental approach. He gently pries our eyes open with his compassionate message and teaches us to be an expression of what lives in our hearts.
If you are interested in living your life with more compassion, don't miss today's podcast.
Gene Baur will take questions from the Ordinary Vegan community on Facebook. We will cover a plethora of topics including his best-selling book "Living The Farm Sanctuary Life: The Ultimate Guide to Eating Mindfully, Living Longer, and Feeling Better Every Day," which has been described as "a beautiful picture of how we can all thrive without eating meat and harming animals." The book also includes practical advice as well as 100 delicious plant-based recipes.
If you're still looking for a present for your favorite guy for Father's Day, you can buy Gene's books here or make a donation in your special someone's name at Farm Sanctuary.
Compassion & Healthy Living With Gene Baur
Some of the things you will learn in today's podcast:
Why Gene Baur made it his mission to help animals and spread the word about a vegan diet and lifestyle.
The effects of factory farming on the environment.
How he lives with his close-up view of the pain and horror of factory farming.
How to make small but impactful changes with friends and co-workers.
Vegan animals and nutrition.
How you can help enlighten and convince more humans to choose compassion over their taste buds.
What is empathy?
The controversy about honey and whether he eats it.
Pigs and intelligence.
If you would like to join Gene Baur and Ordinary Vegan on the 2017 Holistic Holiday at Sea , all vegan cruise, you can sign up here.


I promise, it's a life-changing experience. Mention Ordinary Vegan for an onboard credit. Hope you can join us!!
Thank you for listening.
To get more Ordinary Vegan content sent directly to your device as they become available, you can subscribe here or on iTunes.
If you get a minute, please leave a review on iTunes. A strong presence on iTunes is crucial to growing our podcast audience and spreading the compassion. Here is how you do it.
Open iTunes
Sign in with your Apple ID
Click iTunes Store
Search and click on Ordinary Vegan Podcast
Under customer reviews, click write a review
Enter a title, select a star rating, write your review, then click submit