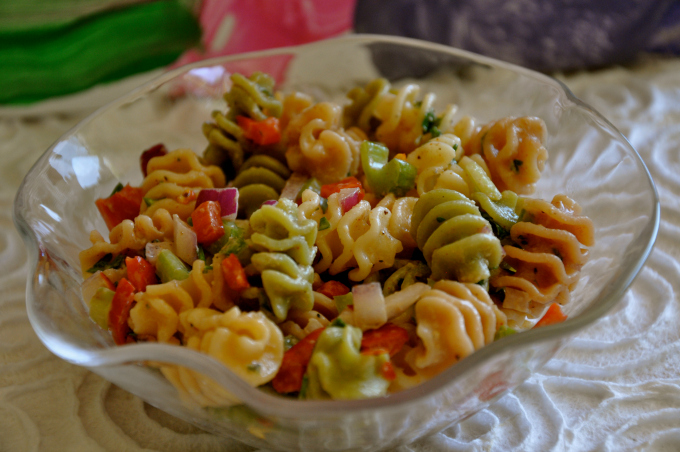 Creamy Macaroni Salad
Today I listened to Day 4 of Deepak Chopra's free meditation challenge. It really struck home for me, and I wanted to share it with all of you. Here is what he said:
"Many of us are brought up with the belief that it is better to give than receive and that it is important to take care of other people's needs before our own. If you have taken that belief to heart, you may find yourself giving until you are physically exhausted, financially depleted or emotionally drained with little left to give. In reality, truly loving relationships depend upon the ability to nurture yourself, love yourself and to practice self-care. We can only give what we have, and your relationships will always mirror how you feel about yourself. Are you treating yourself like the precious, lovable soul that you are? Infinitely worthy and infinitely deserving? In the words of the Buddah – you can search the entire universe and not find a single being more worthy of love than you."
Beautifully said Deepak. If you haven't been making your own being and self-care a priority in your life, perhaps this is a good reminder. Caring about your health and compassionate eating is a wonderful way to begin.
On to food. We had a large crowd for dinner this weekend, and I wanted to serve some crowd pleasing vegan dishes. There is nothing like gathering around a table of delicious food with those you love! One of the dishes I served was an old-fashioned vegan macaroni salad.   I don't use vegan mayonnaise too often, but once in awhile, I do like to recreate recipes that I miss. Hope you enjoy this creamy macaroni salad as much as we did and always remember…
"When you love and honor yourself, relationships blossom."

Are You Worthy of Love? and Ordinary Vegan Creamy Macaroni Salad
Ingredients
1 16ounce package of your favorite whole wheat pasta
3 stalks celery, chopped
5 carrots, chopped
1 red, yellow or orange pepper, chopped
½ bag (approximately 7 ounces) of frozen organic peas, thawed
½ cup chopped red onion
¾ cup vegan mayonnaise
3 tablespoons almond milk
⅛ cup apple cider vinegar
1 tablespoon of mustard
1 teaspoon sugar
½ teaspoon paprika
1 tablespoon nutritional yeast
½ cup chopped fresh parsley
salt and pepper to taste
Instructions
Cook pasta according to directions. Drain and rinse with cold water. Set aside.
Mix celery, carrot, bell pepper, peas, and red onion in a large bowl.
In a seperate bowl, combine the mayonnaise, almond milk, vinegar, mustard, sugar, paprika, nutritional yeast, and whisk until smooth.
Combine vegetables and pasta and cover with sauce, mixing until evenly coated. Refrigerate for a couple of hours before serving.
Top with parsley and salt and pepper to taste.