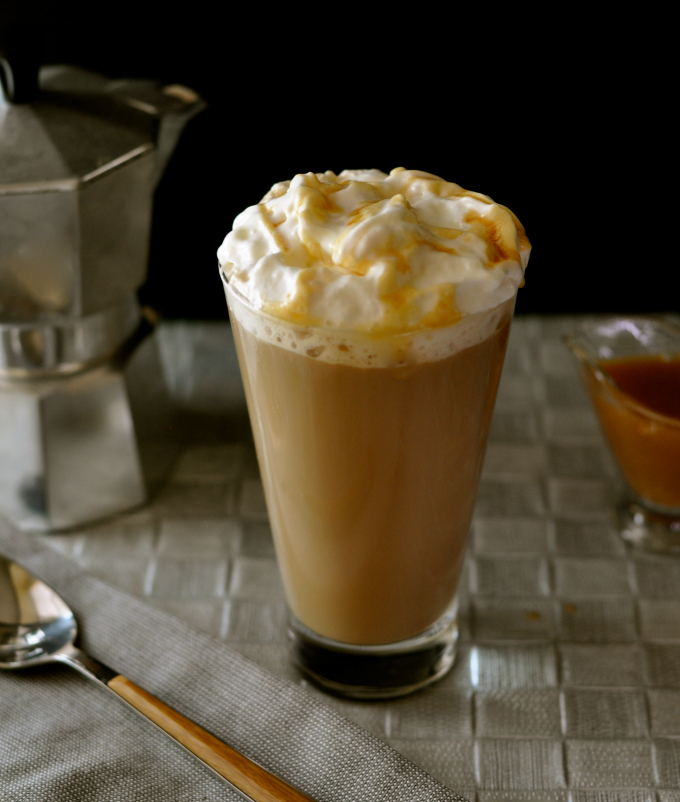 Dairy Free Diet Caramel Latte
For the past few months I have been blogging about the environmental and health benefits of following a dairy free diet. Many of you mentioned that you would miss milk drinks, so with the help of Silk, I made it my mission to come up with some delicious alternatives.
The first non-dairy drink I prepared is essentially a caramel brûlée latte. You know like the one that a certain popular Seattle coffee shop sells for $3.75. Mine tastes very similar but without all the fat and calories. Where is why.
I used a caramel almond and cashew non-dairy milk called Nutchello which is only 70 calories per serving, 9 grams of sugar, and no cholesterol or saturated fat. I topped it with a coconut whipped cream that is an Ordinary Vegan community favorite. Then I gave it a drizzle of caramel on top which is optional because the non-dairy milk itself has a delicious rich caramel flavor.
The next thing I prepared was a simple, refreshing iced coffee. I don't know about you, but I'm a Boston girl,  and we love our iced coffee in the morning. All you have to do is fill a tall glass with ice cubes and pour the coffee over it with a big splash of non-dairy milk. I loved using the dark chocolate walnut Nutchello in this preparation.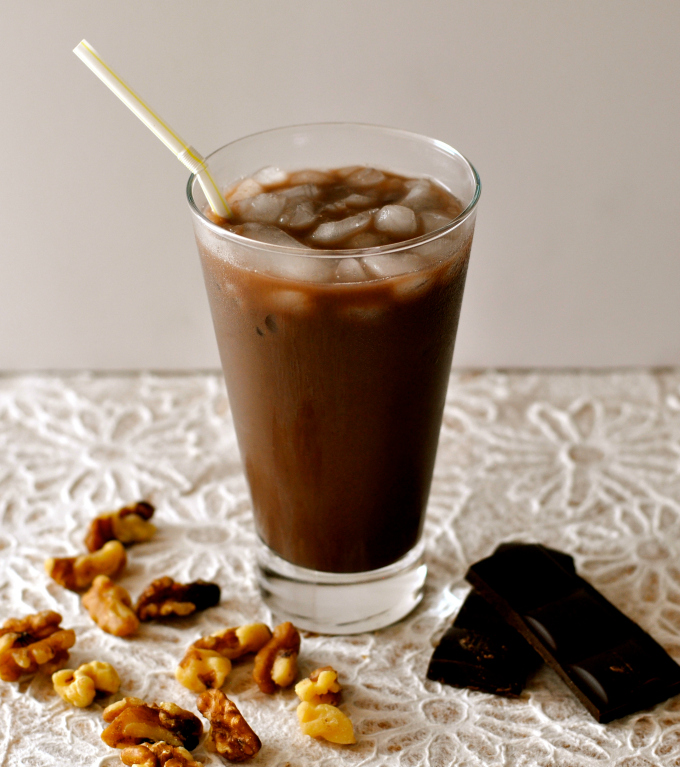 Dairy Free Diet Ice Coffee with Dark Chocolate and Walnut Non-Dairy Milk
Sometimes on a hot summer night, we would make our ice coffee into frappes which is another Boston favorite. All you do is pour about a cup of freshly brewed coffee into a blender, add crushed ice and 1/2 cup of more of coconut almond Nutchello. Blend for about 10 seconds.
The nice thing about using a flavored non-dairy milk like Nutchello is that you don't have to add any added sugar or extra flavor. It is all in the milk.
Dairy-Free Diet Smoothie with Spinach, Dates, Bananas & Rich Dark Chocolate & Walnut Nuchello
My last dairy free diet drink is a simple smoothie with spinach, dates, bananas and any flavor of Nutchello milk you like. I'm a dark-chocolate girl, so I stuck with Nutchello's rich dark chocolate and walnut non-dairy milk. It was delicious and it's a clever way to get your children to eat their fruits and vegetables.
Hope you enjoy one of these dairy free diet beverage ideas the next time you're craving a dairy drink.
You can find Nutchello at most conventional grocery stores or see the Silk Store Locator, which allows you to do a city by city search.
You can also sign-up for Silk's newsletter which frequently offers coupons for their non-dairy milk selection.
Please note, this is a sponsored conversation written by me on behalf of Silk. The opinions, food photos and text are all mine. And yes, I do love this non-dairy beverage Nutchello.
Thanks for joining us and don't miss any of Ordinary Vegan's free recipes by signing up here. When you get a chance, check out all my free podcasts here on my website or iTunes.

Caramel Brûlée Latte with Nutchello Dairy-Free Milk
Instructions
Add the caramel almond milk to a small saucepan. Heat until hot.
Pour into a coffee mug. Add the espresso shot.
Top with whipped topping and a drizzle of caramel sauce. (optional)
Dark Choclate Dairy Free Smoothie
Ingredients
8 ounces of Dark Chocolate Nutchello non-dairy milk
1 large handful of spinach
½ avocado, sliced
1 banana sliced
2-3 dates, pitted and sliced
Instructions
Combine all the ingredients in a food processor or blender. Blend until smooth.
Nutrition Information
Serving size:
6 ounces
Calories:
360
Saturated fat:
0
Trans fat:
0
Protein:
4 grams
Cholesterol:
0
Vegan Caramel Sauce
Ingredients
¼ cup vegan sugar
1 tablespoon water
⅛ cup of Silk almond creamer or any heavy non-dairy creamer
1 teaspoon bourbon
tiny pinch of salt
Instructions
Add the sugar and water to a medium, heavy saucepan. Place over medium high heat stirring constantly with a wooden spoon until a deep amber color is reached. Watch very carefully so it doesn't burn. This will take about 15 minutes.
Turn off burner and remove from heat and slowly stir in the cream.
Add the bourbon. Add the pinch of salt.
Let cool Store covered in the refrigerator. You can microwave for 30 seconds before using or warm up in a small pot.
This is a sponsored conversation written by me on behalf of Silk. The opinions and text are all mine.