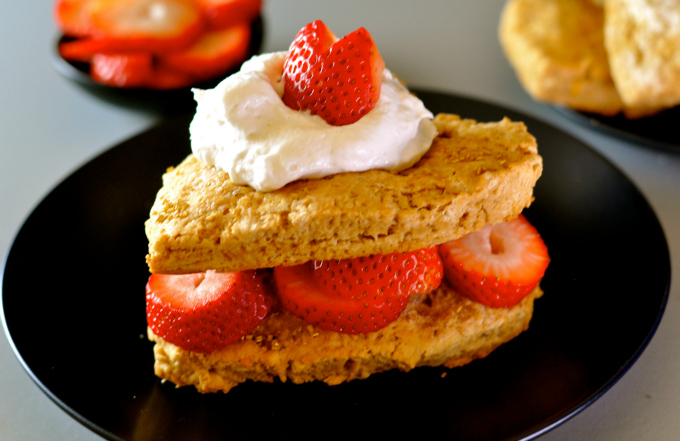 Before we discuss these delicious, easy scones, I want to mention food labels. Reading food labels can be a tricky business. Sometimes we see words like all-natural on foods and often assume that the foods do not contain any hormones, antibiotics or artificial ingredients.
However, that is not true. Not only that, many people think that "natural" and "organic" mean the same thing. That is also not true. Neither the FDA nor the USDA has rules or regulations in the United States for products labeled "natural." Anybody can put the word natural on their product.
Unfortunately, as consumers, we also have to be food detectives. It is the world in which we live. Brands that we have grown up with and trust use deceptive labeling to confuse us. I am always amazed at the disrespect these companies show consumers. They include artificial and sometimes harmful ingredients in our food, and when we find out, they take it out and label it with something like hormone-free. As if they are doing us a favor by giving us safe food to eat.
Remember azodicarbonamide also known as the "yoga mat" chemical. It was found in over 500 brands including the rolls you ate at Subway. Fortunately, there was an advocate called Food Babe who successfully campaigned to remove the "yoga mat" chemical from Subway. Sadly, most harmful ingredients in food are never removed by the manufacturer until the public pushes back.
So what can we do? First, there are so many harmful additives, and way too many to list here. But most of the time lab-generated chemical and flavor enhancers do have complicated names. So I recommend taking the time to look at food labels. If you don't know what it is, don't eat it. And always avoid these commonly used ingredients: artificial sweeteners, high fructose corn syrup, MSG, partially hydrogenated oil, sodium benzoate, potassium bromate, sodium nitrate and food colorings.
I hope that information helps you eliminate some of the dangerous chemicals from your diet. Now let's talk about plant-based sugar and this week's easy scones recipe.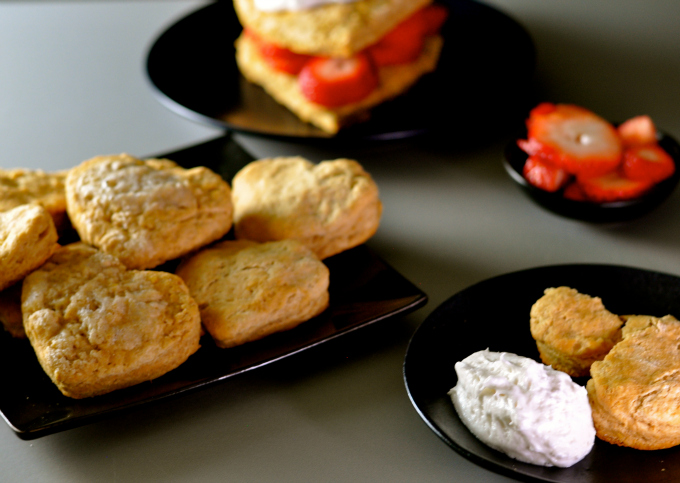 ENJOY THESE EASY SCONES WITH WHATEVER YOU LIKE
BUT THEY ARE TRADITIONALLY SERVED WITH WHIPPED CREAM AND JAM
Many of you were surprised to find out that most cane sugar is not vegan. Unfortunately, sugar companies use bone char to make cane sugar white. Not only that, they import these bones from all over the world. You can read more about bone char and sugar in my February 4, 2016, sugar and spice glazed tofu post.
Last year I posted a list of companies who don't use bone char in their cane sugar, and that blog has become one of my most popular posts. A company on that list called Zulka reached out to me to create some recipes for them using Zulka Cane Sugar. Their cane sugar is 100% vegan and non-gmo, so I said yes.
I also love Zulka because they are committed to sustainability. Here is the sustainability statement from their parent company Zucarmex.
Zucarmex is committed to the efficient and sustainable production of sugar cane. The company's irrigation system recirculates all water, assuring the sugar cane plants receive the optimum amount of nutrients needed for effective growth, and after pressing the cane all the remaining plant waste is returned to fields as natural soil improvers. In addition, Zucarmex does not utilize any fossil fuels to power its mills. Instead, the company produces electricity using leftover fibers from cane processing, and sends additional power back to the community electricity grid.
You can find Zulka  on their website, Facebook, Pinterest, Twitter and Instagram sites. They have lots of fun recipes and soon you will see some of Ordinary Vegan's recipes on their social media including these easy scones scented with lemon and served with strawberries and coconut whipped cream. A mouthful to say and a delicious mouthful to eat.
What I love about these easy scones is that they are healthy but with a rich and decadent taste. If you have never eaten scones before, they are a cross between a cake and a bread. British scones are lightly sweetened, but may also be savory. I made a basic recipe and decided last minute to add some lemon zest to add a savory tone.  But scones are an open book. Feel free to add anything. Raisins, nuts or maybe some vegan chocolate chips. Yum! I choose to serve them with some sliced strawberries and the traditional side of cream made from coconut milk. They were delicious! Hope you enjoy these easy scones as much as I did. Don't miss any of Ordinary Vegan's free recipes by signing up here. Hope you get a chance to listen to my podcasts on iTunes or here on my website. Wishing you a peaceful and compassionate week.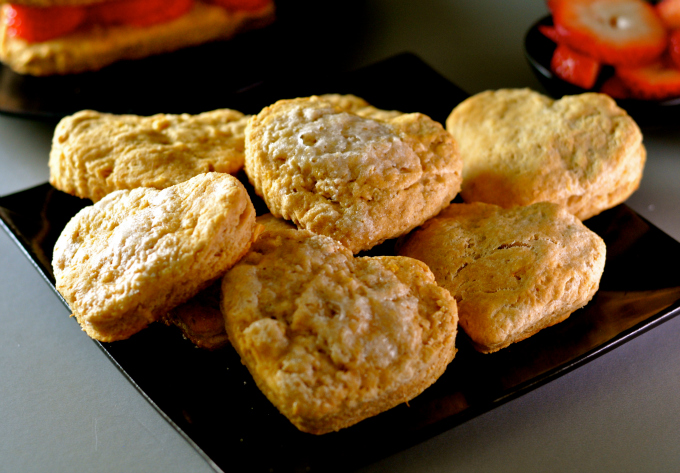 EASY SCONES RECIPE BELOW
Here is the link to the vegan whipped cream with coconut milk.
Lemon Scones with Strawberries & Whipcream
Ingredients
Dry
3 cups of flour
¼ cup Zulka vegan sugar plus 2 teaspoons for decorating
3 teaspoons of baking powder
1 teaspoon salt
¼ cup of cold vegan butter, cut into ½-inch pieces
Wet
1 cup of almond milk
1 teaspoon apple cider vinegar
1 tablespoon maple syrup
2 flax eggs (see note)
2 tablespoons lemon zest
Instructions
Heat the oven to 375 degrees F. Line a baking sheet with parchment paper.
In a small bowl, mix the apple cider vinegar and almond milk. Set aside for a few minutes to curdle.
In a large mixing bowl, whisk together the flour, baking powder, salt and sugar. Cut in the butter until the mixture is crumbly.
In a medium bowl, combine the curdled almond milk, maple syrup, 2 flax eggs and lemon zest.
Stir the milk mixture into the flour mixture just until incorporates; the dough be be crumbly and look dry. Read in the bowl a few times to bring the dough together into a single mass. If too crumbly, add a tiny bit of almond milk.
Turn the dough out onto a lightly floured work surface and press into a a circle roughly 7 inches in diameter and 1 inch thick. Cut the dough into 8 wedges. Arrange the scones on the baking sheet, spacing each a t least 1½ inches apart. Brush the scones with a little almond milk, and sprinkle with sugar.
Bake the scones until puffed, lightly colored and set, about 25-30 minutes.
***Flax Eggs - Whisk together 2 tablespoons of ground flax with 6 tablespoons of water. Place in refrigerator for 15 minutes to thicken. This equals 2 eggs.***