Zoodles with Vegan Bacon, Cherry Tomatoes & Kale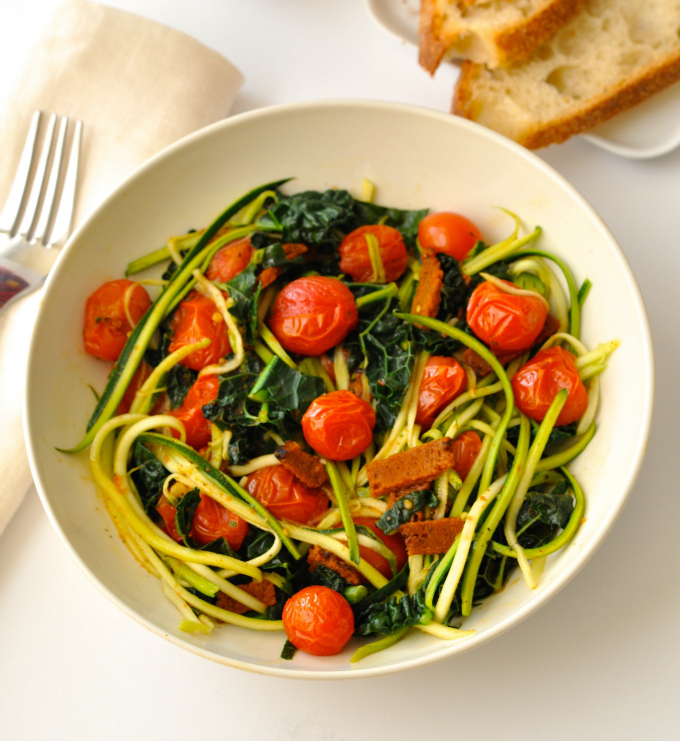 3 cups of cherry tomatoes
1 teaspoon of extra-virgin olive oil (if you are oil-free just omit)
4 medium zucchini, made into zoodles *see below
2 cups of chopped kale, large veins and stems removed
⅓ cup of vegetable broth for sautéing (or more) + ⅓ cup
2 strips of vegan bacon, chopped
2 garlic cloves, chopped
¼ teaspoon salt
¼ teaspoon of ground black pepper
pinch of red pepper flakes
Fresh chopped basil for topping (optional)
Preheat the oven to 400 degrees F. Place the tomatoes on a baking sheet with a lip and covered in aluminum foil. Toss with the olive oil. Grind some fresh black pepper over and add a pinch of salt.
Bake in the oven for 20 minutes. The should be blistered and ready to pop open. Set aside.
Heat the ⅓ cup of vegetable broth in a large skillet over medium heat. Add the vegan bacon and cook for 3-4 minutes. Add the garlic and cook another 2 minutes adding more vegetable broth if it is sticking.
Stir in the additional ⅓ cup of vegetable broth, red pepper flakes, ¼ teaspoon salt and ¼ tsp ground black pepper. Add the kale and cover with a lid. Cook for 2-3 minutes covered.
Add in the zucchini pasta and roasted tomatoes. Stir frequently for about 2-3 minutes or until the noodles are coated with the tomato juices and the noodles have slightly softened.
Serve in a large bowl topped with fresh basil.
*zoodles - I like an inexpensive julienne peeler for perfect zucchini noodles aka noodles. First step is to cut and the ends of a washed and dried zucchini. Don't peel it because the dark green skin looks fancy and tastes great. Hold the zucchini legnthwise in your hand - kind of nested in the palm. Take the peeler and put it against the edge and just draw it down. After you do some pulls on one side, flip it around and do the other side. Then do all the sides. When you get down to the seeds - STOP. You are done. the seeds don't make good zoodles. Put your noodles in a wire colander and sprinkle with salt.
105 % Vitamin C
324% Potassium
80 % Niacin
50% Vitamin E
Serving size:
2 cups
Calories:
164
Fat:
1.5
Trans fat:
0
Carbohydrates:
22
Sodium:
80
Protein:
9 grams
Cholesterol:
0
Recipe by
Ordinary Vegan
at https://ordinaryvegan.net/zoodles/