Sweet Potato Muffins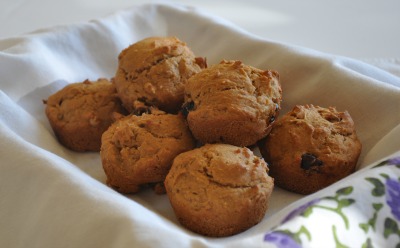 1 c sweet potato puree
¾ c unsweetened almond milk (or any non-dairy milk)
¼ c applesauce
½ c maple syrup
1½ c flour
1½ tsp baking powder
1 tsp baking soda
½ tsp salt
½ tsp ground cinnamon
¼ tsp ground ginger
⅛ tsp ground nutmeg
½ c dried cherries or cranberries (optional)
¼ cup chopped walnuts (or more to taste) (optional)
Preheat oven to 400°F and lightly oil a muffin tin. I like to use muffin cups.
In a food processor, mix together sweet potato puree, milk, applesauce, and maple syrup
In a medium bowl, sift together flour, baking powder, soda, salt, and spices.
Combine wet and dry mixtures until just moistened. (batter should be on the thicker side - add more non-dairy milk if needed)
Spoon batter evenly into prepared pan.
Bake for 25-28 minutes, or until a toothpick inserted into the center of a muffin comes out clean.
Let muffins rest a moment in the pan, then cool slightly on a wire rack before serving.