Pomelo Salad with Toasted Almonds & Coconut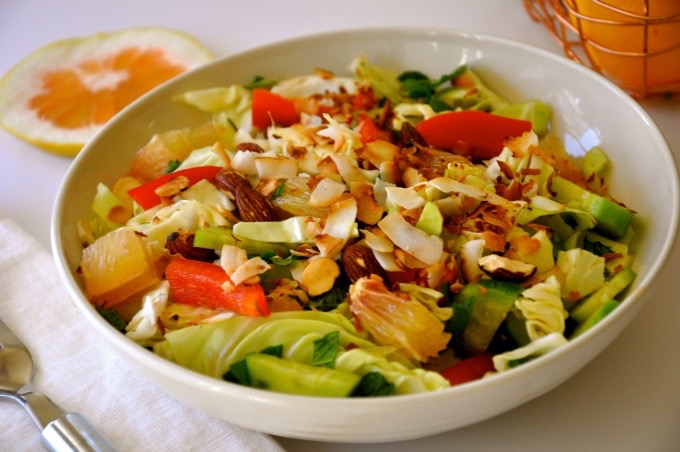 2 tablespoons of low-sodium soy sauce or Tamari
3 tablespoons of fresh lime juice (approximately 1½ limes)
1 tablespoon of brown sugar
½ teaspoon of vegan Worcestershire sauce
1 garlic clove, finely chopped
1 small Thai chile, minced (use less if you don't like a lot of heat)
¼ cup chopped almonds or your favorite nut
4 tablespoons of unsweetened coconut
2 Pomelos, skin removed and cut into bite-sized pieces (remove all pith)
2 cups chopped cabbage (red or white)
¼ cup fresh mint leaves
4 tablespoons of fresh chopped cilantro or torn basil leaves (or both)
1 small cucumber, sliced
3 green onions, sliced
1 small red bell pepper, sliced
Heat a small skillet over medium heat. Add the peanuts and coconut and saute until fragrant and lightly toasted. This only takes about a minute or two so keep stirring. Set aside
In a small bowl, whisk together the lime juice, soy sauce, brown sugar, Worcestershire sauce, garlic and chile pepper. Set aside.
Lightly toss together the cabbage, pomelos, mint leaves, cucumber, red bell pepper, green onions cilantro or basil leaves. Pour the dressing over it and lightly toss to combine.
Top with the coconut and nuts.
Serving size:
½ cup
Calories:
176
Fat:
8 grams
Saturated fat:
2 grams
Trans fat:
0
Sugar:
17 grams
Fiber:
5 grams
Protein:
6 grams
Cholesterol:
0
Recipe by
Ordinary Vegan
at https://ordinaryvegan.net/pomelo-salad/