Pea Salad with Oil-Free Miso Mint Almond Milk Dressing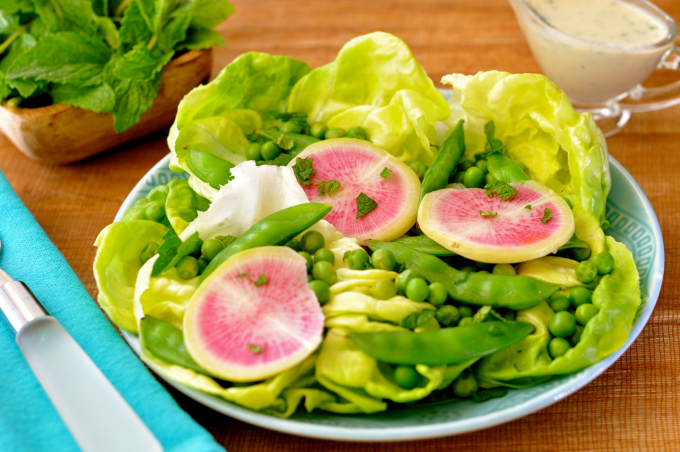 1 head of butter lettuce
1 cup of english peas
2 cups of sugar snap peas
1 large watermelon radish
Juice of 1 4-6 inch knob of fresh ginger
6 ounces of organic soft tofu
2 tablespoons of white miso paste
1 tablespoon of Dijon mustard
4 tablespoons of unseasoned rice vinegar or white wine vinegar
½ cup unsweetened almond milk
Juice from 1 large fresh lime
¼ teaspoon of salt
Fresh ground black pepper
¼ cup fresh mint leaves and some for garnish
Trim sugar snap peas. Pull off strings.
Place a steamer basket in a saucepan and add water to come 1 inch up side. Bring to a boil.
Reduce the heat and place sugar snap peas and english peas in the basket. Cover and steam until tender-crisp, approximately 1-2 minutes. Making sure not to over steam and keeping them crisp.
Thinly slice the radish.
Separate the lettuce leaves. Tear the largest leaves in half, leaving the small leaves whole. Wash, rinse and dry the lettuce.
Grate the ginger on the large-hold side of a box grater until you have 2 tablespoons. Collect the grated ginger in your hand and squeeze out the juice into a small bowl. You should have about 1 teaspoon of juice. Discard the grated ginger.
In a food processor, add the ginger juice and all the vinaigrette ingredients except for the mint. Process until smooth. Add the fresh mint and give it a couple of pulses. Taste and adjust seasoning if needed.
Arrange the lettuce leaves on four plates. Top with ½ cup of sugar snap peas and ¼ cup of english peas. Top with radishes or any vegetable you desire. Drizzle with dressing. Garnish with some more fresh chopped mint.
Recipe by
Ordinary Vegan
at https://ordinaryvegan.net/pea-salad/