Jackfruit Tacos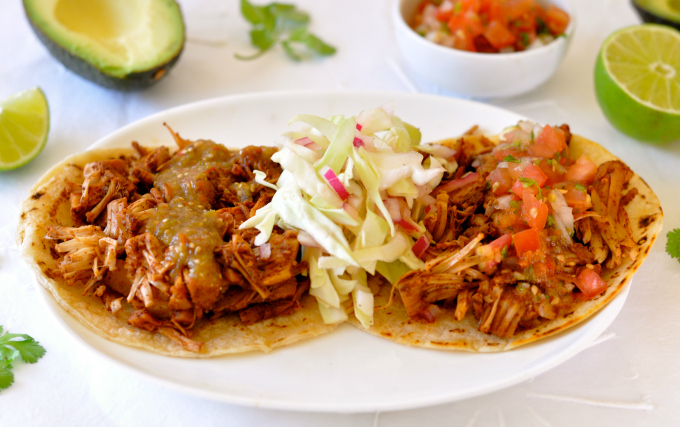 2 tablespoons ancho chili powder
2 teaspoons ground cumin
¼ teaspoon ground cinnamon
1½ tablespoons light brown vegan sugar
1 teaspoon salt
½ teaspoon ground black pepper
2 20-ounce cans of baby jackfruit in brine, drained and rinsed well.
½ onion, chopped
2-3 garlic cloves, chopped
½ cup vegetable broth, divided (or more)
Juice of 1 lime
Juice from one lime
4 Lime wedges for serving
1 Avocado sliced for garnish
8 corn tacos, warmed
½ head of green or red cabbage, cored, quartered and thinly sliced
½ cup diced red onions
1 carrot, grated
2 tablespoons cilantro, chopped (or parsley)
⅓ cup apple cider vinegar
1-2 teaspoons maple syrup
1½ teaspoons salt
½ teaspoon ground black pepper
6 plum tomatoes, halved (or 3 whole large tomatoes - core removed) or you can use approximately 8 tomatillos for a green chili
1-2 serrano chiles (or jalapeno) cook 2 - add one to processor, taste and add the other if you want more heat
4 garlic cloves
1 small red onion, chopped
2 limes, juiced
½ teaspoon maple syrup
¼ cup chopped fresh cilantro leaves
Shred and chop the larger pieces of jackfruit.
In a medium bowl stir together the chili powder, cumin, cinnamon, sugar, salt and ground black pepper. Add the shredded jackfruit and toss covering the jackfruit with the rub. Cover and put into the refrigerator for an hour or overnight.
In a large bowl, combine the cabbage, onions, carrot, salt, pepper, maple syrup and vinegar and toss to mix. Cover and set aside in the refrigerator for an hour to marinate.
Pre-heat oven to 425 F
Slice off the top of each head of garlic to expose a little of the cloves inside, Wrap the garlic in aluminum foil.
Place the tomatoes, serrano chilies and wrapped garlic cloves on a baking sheet.
Bake for approximately 35 minutes or until the tomatoes are blistered.
Transfer the cooled roasted tomatoes and chili to a food processor. Add the lime juice, maple syrup, salt and pepper. Squeeze the garlic cloves from skins and add to food processor.
Process until smooth. Add the cilantro and pulse a couple of times. Taste for seasonings.
Transfer to a bowl.
In a large skillet over medium heat, add ⅓ cup of vegetable broth. Season with a little salt and ground black pepper. Add the chopped onions. Sauté for 2-3 minutes or until the onions are soft and translucent. Add the garlic and sauté for another minute or two. Adding more vegetable broth if sticking.
Add the jackfruit and another ⅓ cup of vegetable broth. Stir to combine and sauté for another 5-8 minutes, stirring often. Squeeze the juice of one lime over the jackfruit and remove from heat.
Assemble your tacos with some of the shredded jackfruit. Top with roasted tomato salsa, some avocado slices and coleslaw. Serve with lime wedges.