Vegan Macaroni Salad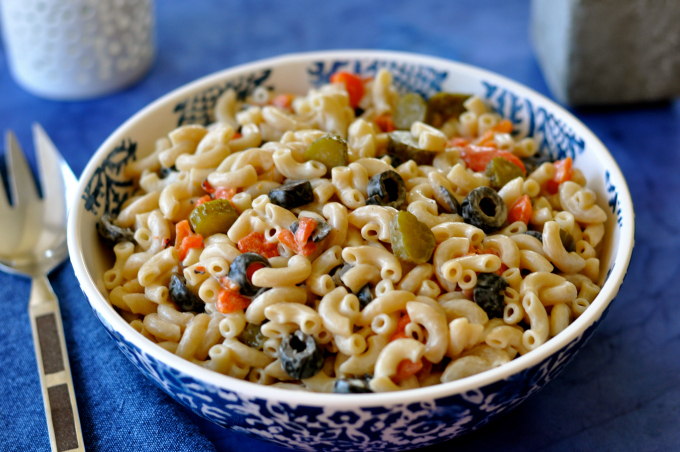 4 cups dry Elbow Macaroni (uncooked)
½ cup Vegan mayonnaise
1 Tablespoon Red Wine Vinegar
¼ cup unsweetened non-dairy milk
3 teaspoons maple syrup
¼ teaspoon salt (or more to taste)
Fresh ground black pepper
1 tablespoon of pickle juice
3 roasted red peppers, chopped (3/4 cup or more)
½ cup chopped black olives (or more)
6 sweet pickled slices, diced (3/4 cup or more)
3 green onions, sliced
Cook the macaroni according to directions and rinse. Put in a large bowl and set aside.
Whisk together the vegan mayonnaise, non-dairy milk, maple syrup, salt, pepper and pickle juice. Taste and adjust seasoning.
Toss the macaroni with the mayonnaise mixture.
Stir in the red pepper, olives, and pickles.
Chill for a couple of ours before serving. Taste and add another tablespoon of pickle juice if you desire. Top with the sliced green onions.