Roasted Carrots & Arugula Salad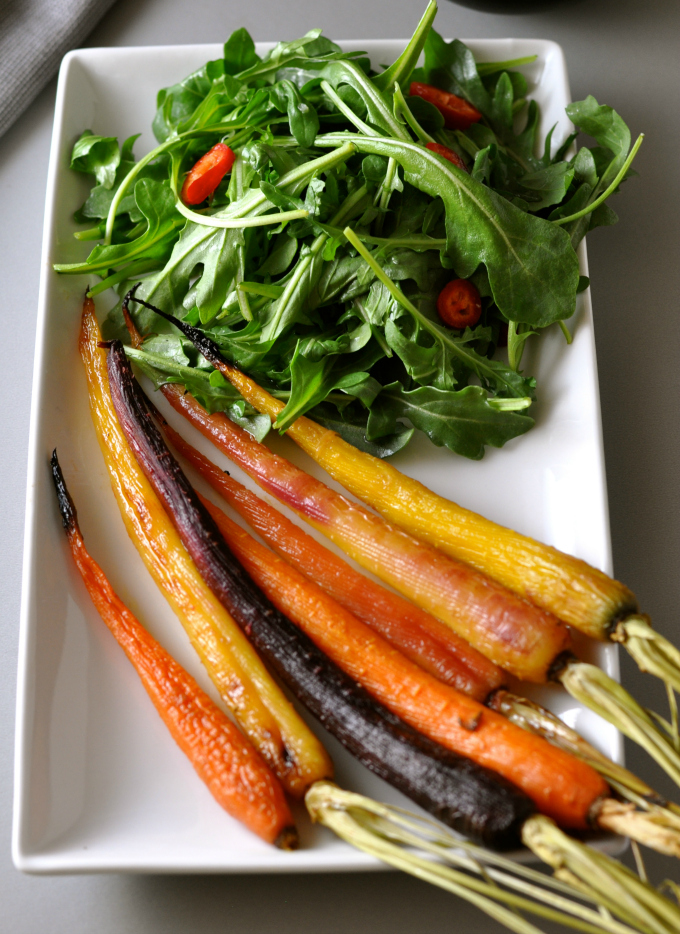 1 bunch carrots
1 tablespoon maple syrup
1 tablespoon lime juice
pinch of salt and ground black pepper
a large bunch of arugula
4 tablespoons fresh lime juice
4 tablespoons rice vinegar
1 tablespoon water
1½ teaspoons maple syrup
¼ teaspoon salt
Fresh ground black pepper
1 red Fresno chili, finely chopped (optional) adds heat
Heat the oven to 400 degrees F.
Whisk together the 1 tablespoon maple syrup and 1 tablespoon lime juice. With a small pastry brush brush the carrots with the mixture, coating both sides.
Place the carrots into oven for approximately 20 minutes or until soft and caramelized.
Whisk together the vinaigrette ingredients. Taste for seasoning. If too tart, you can add more water or a little more maple syrup. Toss half of the dressing with the arugula, taste and add more as needed. Taste for seasoning.
Place a mound of arugula salad on a plate with roasted carrots.
Recipe by
Ordinary Vegan
at https://ordinaryvegan.net/summer-salad-recipes/