Palak Paneer with Tofu & Spinach Gravy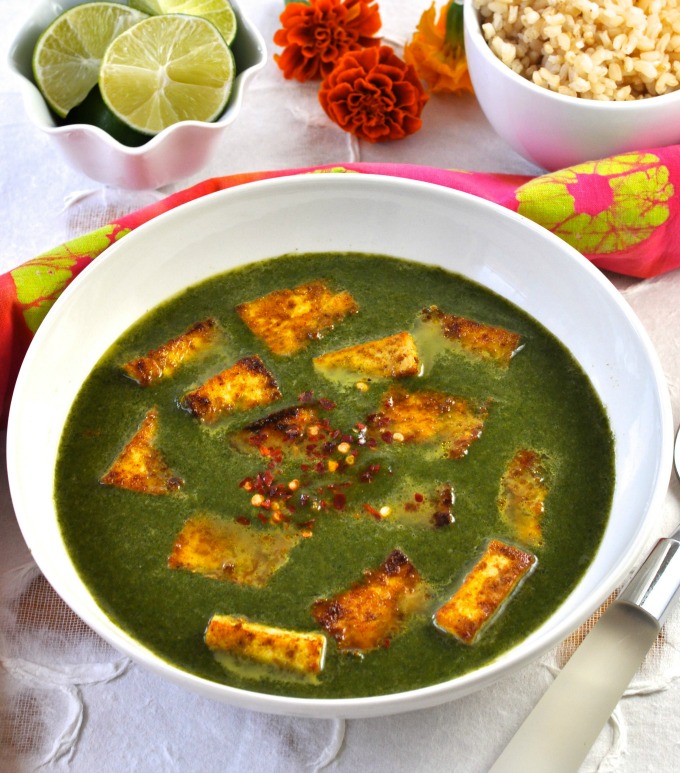 ½ tsp ground cumin
1 tsp ground coriander
½ tsp ground ginger
¼ tsp ground turmeric
¼ tsp ground cinnamon
1 tablespoon brown sugar
1 package 14-ounce of extra firm organic tofu
1 teaspoon extra-virgin olive oil
⅓ cup of vegetable broth for sautéing plus ½ cup for spinach gravy
⅓ cup chopped shallots
3 garlic cloves, chopped
1 tablespoon of grated ginger (grating brings out more flavor than chopping)
1 serrano chile, chopped (if you like heat, add two)
1 teaspoon ground cumin
⅛ teaspoon nutmeg
pinch of cayenne
1 tablespoon maple syrup
¼ cup coconut milk (lite if you are using can)
juice of one lime
¼ teaspoon salt or more
Fresh ground black pepper
1 large bunch of spinach (approximately 5 ounces)
Press the water out of the tofu by wrapping it in a clean dishcloth. Manually press the water out into the dishcloth gently for one minute. Cut into cubes and place in a medium bowl.
Make the rub. Combine the cumin, coriander, ginger, turmeric, cinnamon and brown sugar. Sprinkle over the tofu covering evenly. Set aside.
Heat ⅓ cup of vegetable broth in a large sauté pan. Season with a pinch of salt and ground black pepper. Add the shallots and sauté for about 3 minutes. Add the ginger, garlic, chile, cumin, nutmeg and cayenne. Sauté until everything is soft and translucent. This should take another 3 minutes. Top the sauté mixture with the spinach. Add ½ cup of vegetable broth. Cover and let steam for 3-4 minutes or until the spinach is wilted,
Add the spinach mixture, salt, pepper, maple syrup, coconut milk and lime juice to a food processor and process until smooth. Taste and adjust seasonings. Set aside.
Take the same sauté pan, rinse it out, dry with a paper towel and heat the teaspoon of oil. Add the tofu cubes and sauté until they are crisp and brown on all sides. This will take about 3-5 minutes. Remove from sauté pan and set aside.
Pour the spinach mixture back into the sauté pan and cook until bubbly about 3-5 minutes. Remove from stove and add in the crispy tofu.
Serve with rice and lime wedges and a sprinkle of red chili flakes if you desire.
Recipe by
Ordinary Vegan
at https://ordinaryvegan.net/palak-paneer/