Vegan Meringue with Summer Berries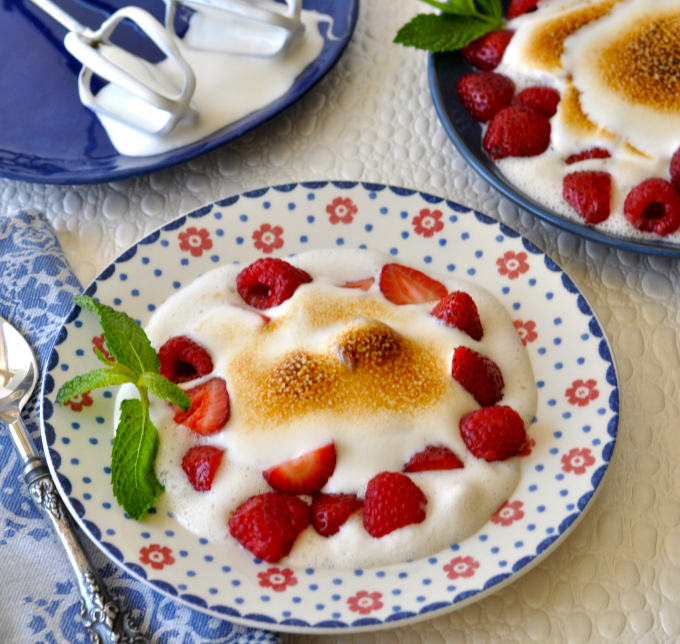 1 15 ounce can chickpeas
¼ teaspoon cream of tartar
¾ cup of vegan sugar
¾ teaspoon vanilla
3 cartons of various summer berries (I like blueberries, strawberries and
In a large bowl, add the berries and a small drizzle of maple syrup. Combine. Set aside.
Pour the liquid from the can of chickpeas into a bowl. I like to use an aluminum bowl that has been placed in the freezer for 30 minutes.
Add the cream of tartar.
With a hand mixture start whipping the chickpea liquid until it begins to thicken.
Gradually add the sugar and vanilla and continue whipping until stiff peaks form. I used a hand mixer and it took about 8-10 minutes but if you have a stand up mixer with a wire whip, it will probably take less time. Don't give up - those stiff peaks will come.
To serve, place a dollop of meringue on a plate and spoon some berries over it.
**Oven Meringues - position a rack in the center of the oven and preheat to 275 degrees F. Trace 6 2½ inch circles on parchment paper, then invert paper onto a baking sheet. Divide the meringue between circles, spooning it to fill each circle completely. Bake until the outside is dry to the touch and the meringues are just beginning to color slightly, about 35 minutes. Turn oven off and open door slightly, and leave the meringues in the oven until completely cool. The meringues can be made up to 3 days in advance, and stored in an airtight container.
Recipe by
Ordinary Vegan
at https://ordinaryvegan.net/vegan-meringue/