Bulgur Salad with Tomatoes, Cucumber & Lemon Mint Vinaigrette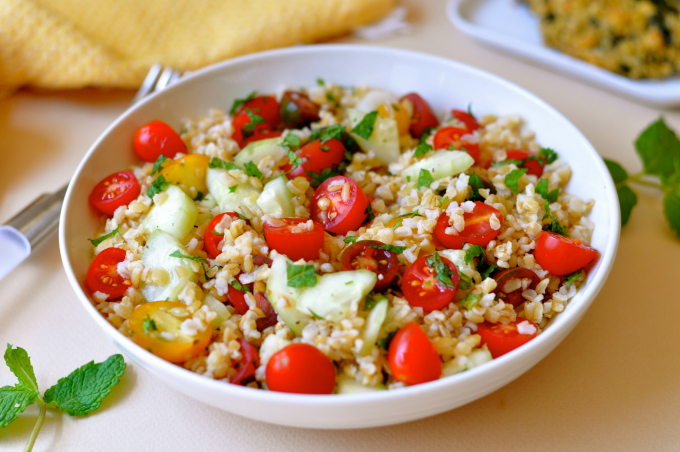 1 cup of bulgur
2 cups of water
¼ teaspoon salt
10-ounces of cherry tomatoes, cut in half
1 cucumber, peeled, sliced and diced
1 lemon juiced
2 tablespoon chopped shallot
2 tablespoons apple cider vinegar
1 tablespoon dijon mustard
1 tablespoon maple syrup
¼ cup water + 2 tablespoons
2 tablespoons chopped mint
2 tablespoons chopped parsley
¼ teaspoon ground black pepper (or more to taste)
Add 1 cup bulgur to 2 cups salted cold water. Bring to a boil, cover and simmer for 12-15 minutes or until tender. Drain off excess liquid. Makes 2 to 2½ cups cooked bulgur.
Combine 2 cups of the cooked bulgur with the tomatoes and and cucumber.
Add all the ingredients to a food processor and process until smooth. Taste and adjust seasonings.**note: if you want to add some olive oil to this vinaigrette - add it in the end and process a few more seconds. I personally don't use a lot of oil but if you miss this ingredient, feel free to add it - all you need is a tablespoon or two**
Combine a few heaping tablespoons of the vinaigrette to the bulgur mixture. Taste and keep adding until it is dressed. I don't like to overdress this salad so I would add a little at a time.
Garnish with some extra chopped mint and parsley.
Recipe by
Ordinary Vegan
at https://ordinaryvegan.net/bulgur/