Vegan Shepherd's Pie with Lentils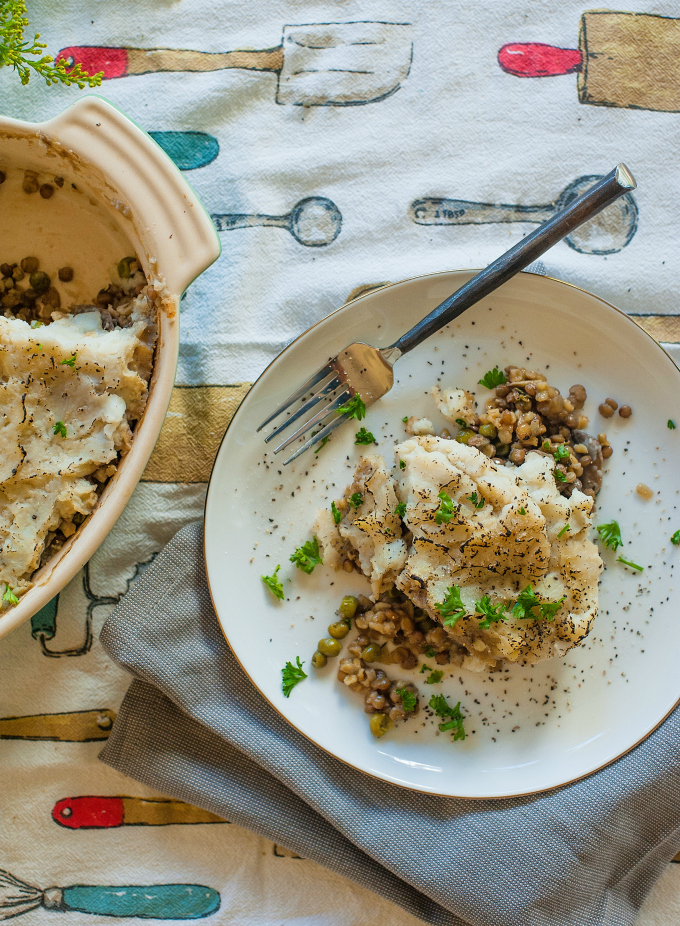 2 lb. medium red or gold potatoes, quartered
¾ cup unsweetened non-dairy milk (I like soy for this recipe)
⅓ cup vegetable broth for sautéing plus 1¼ cups for broth
¾ teaspoon salt (separated)
½ teaspoon ground black pepper (separated)
1 onion, chopped
4 garlic cloves, chopped
10-12 ounces of brown or white mushrooms, sliced
2 tablespoons chopped fresh thyme
2½ cups cooked lentils **recipe below
½ cup uncooked bulgur
2 tablespoons reduced-sodium soy sauce or Tamari
¾ cup frozen green peas
¼ cup fresh chives, chopped
Pre-heat oven to 350 degrees F
Place potatoes into a large saucepan and cover with water. Bring to a boil over high. Reduce heat and simmer 15-20 minutes or until tender
Return potatoes to saucepan. Add non-dairy milk, ½ teaspoon salt and ¼ teaspoon ground black pepper to potatoes and mash until smooth. I like a few lumps.
Heat ⅓ cup of vegetable broth in a large heavy pot.
Add the onion and sauté for 3-4 minutes. Add the garlic and cook another minute, stirring frequently.
Add the mushrooms and thyme and sauté for another 8-10 minutes or until the mushrooms are tender. Add more vegetable broth if sticking.
Add the lentils, bulgur, 1¼ cups of vegetable broth, soy sauce, ¼ teaspoon salt and ¼ teaspoon of pepper. Simmer 15 minutes until thickened. Stir in the peas.
Spoon the lentil mixture into a 13 x 9 inch greased baking dish. Top with mashed potato mixture.
Bake at 350 degrees for approximately 20 minutes.
Garnish with fresh chopped chives.
Calories:
320
Fiber:
10 grams
Protein:
14 grams
Recipe by
Ordinary Vegan
at https://ordinaryvegan.net/shepherds-pie/