Chole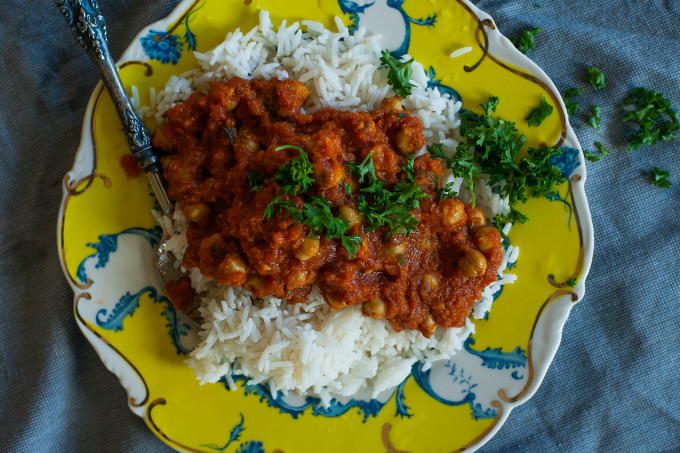 1 15-ounce box of cooked garbanzo beans
1 tablespoon vegetable oil
1 onion, cut into big pieces
1½ inches of ginger, peeled and chopped
1 teaspoonful cumin seeds
½ typhoon turmeric
2 teaspoonful. Coriander powder
¼ teaspoon cayenne pepper
1 teaspoonful Garam masala
1 teaspoonful cumin powder
1 cup of chopped tomatoes
¼ teaspoon salt or more to taste
one tablespoon Chopped cilantro.
1 Tablespoon fresh Lemon juice
Put onions and ginger in a food processor and grind to a paste.
In a medium saucepan, Heat the oil over medium heat.
Add the cumin seeds .
When they start spluttering add the onion and ginger paste.
Stir the onion/ginger paste mixture and cook until the paste turns light brown. Don't let it burn.
Add the turmeric , cumin powder, coriander powder, cayenne and salt. Keep on stirring for about 2 minutes until it is well blended. Add the salt and tomatoes and bring to a boil.
Turn the heat down an let simmer for 10 minutes. Add garbanzo beans and cook for another 10 minutes stirring often.
Add the Garam masala and cook for 2 minutes. Taste and adjust for salt.
Season with the cilantro and lemon juice. Stir and serve over rice.