Wild Rice Stuffed Squash with Pecans & Sweet Dried Cherries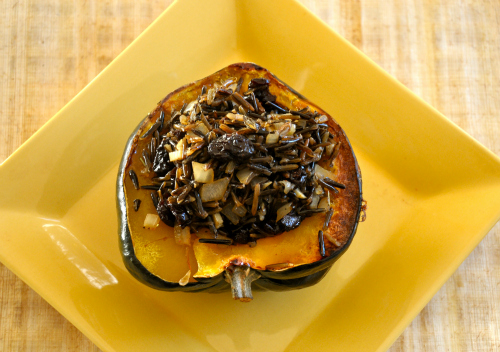 2 acorn squashes (1½ pounds each), halved lengthwise, seeds removed
2 tablespoons earth balance butter (or olive oil but I like the richness of the earth balance butter)
1 shallot, minced
2 garlic cloves, minced
½ teaspoon dried rubbed sage
½ teaspoon rosemary
½ teaspoon thyme
⅛ teaspoon allspice
Coarse salt and ground pepper
1 box (6 ounces) wild-rice blend (seasoning packet discarded)
½ cup dried cherries
½ cup pecans, chopped
Preheat oven to 450 degrees.
On a rimmed baking sheet, arrange squash cut side down; cover sheet tightly with aluminum foil.
Roast until tender when pierced with the tip of a paring knife, about 40 minutes.
Meanwhile, in a large saucepan, heat earth balance butter over medium.
Add shallot, garlic, thyme, allspice, rosemary and sage; season with salt and pepper. Cook, stirring occasionally, until tender, 3 to 5 minutes.
Add rice and 1¾ cups water; bring to a boil, cover, and reduce heat to low. Cook until tender, without stirring, about 25 minutes.
Remove rice from heat, and stir in cherries and pecans; Taste and adjust seasonings - you may need more - season stuffing with salt and pepper.
Season the inside of each squash half with salt and pepper. Dividing evenly, mound stuffing into halves, and serve.
Recipe by
Ordinary Vegan
at https://ordinaryvegan.net/peace/