Rich & Delicious Mushroom Gravy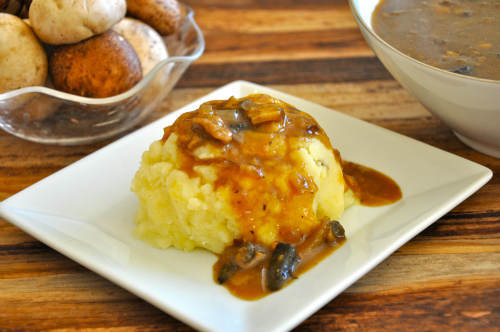 ½ cup vegetable broth for sautéing
3 cups low-sodium vegetable broth
1 cup chopped white onion
4 cloves garlic, chopped
3 cups of chopped mushrooms - any kind I used portabello, white & brown
1 tsp poultry seasoning *see note in summary
2 tbsp fresh thyme, finely chopped
2 tbsp fresh rosemary, finely chopped
¼ teaspoon salt
¼ teaspoon ground black pepper
¼ cup dry red wine
2 fresh sage leaves, chopped
3 tbsp reduced-sodium Tamari
3 tbsp nutritional yeast
2 tbsp whole-wheat flour (for gluten free gravy - use rice flour)
¼ tsp ground black pepper
In a large sauce pan, heat ½ cup of vegetable broth.
Add onion and mushrooms and saute three minutes.
Add garlic and poultry seasoning and sauté until onion is translucent about another minute or two.
Add red wine and cook one minute, stirring constantly. Stir in remaining 3 cups of broth and fresh herbs. Bring to a boil, reduce heat and simmer for 20 minutes.
Meanwhile, in a small bowl, whisk together Tamari, nutritional yeast and flour to form a thick paste.
Add mixture to pan, whisking constantly to make sure the paste dissolves. Bring to a boil and boil another minute, stirring constantly. Add salt, pepper and fresh sage.
Adjust seasonings.
If you prefer it thicker, thicken with flour or cornstarch. 1 tablespoon flour (or cornstarch) to 1 tablespoon of water to make a paste and add. Keep adding and whisking to desired thickness.
Recipe by
Ordinary Vegan
at https://ordinaryvegan.net/vegangravy/