Roasted Cauliflower Recipe with Garlic, Parsley and Red Wine Vinegar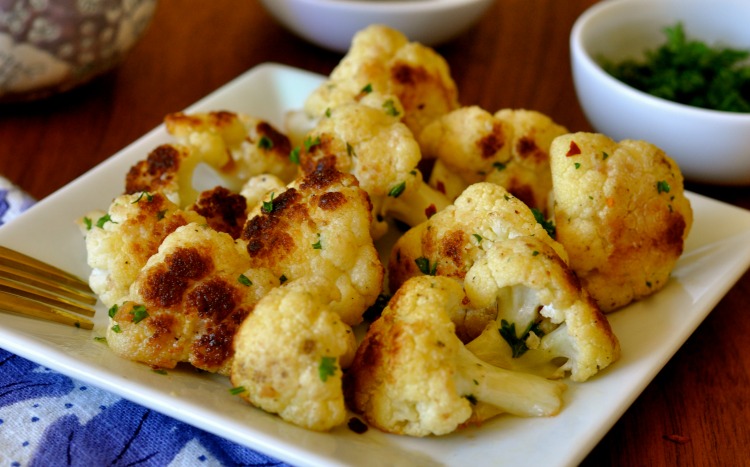 Recipe type:
Side Dish or Entree
1 head cauliflower, trimmed and chopped into florets
2 tablespoons extra virgin olive oil
Salt & ground black pepper
2 tablespoons chopped parsley
¼ teaspoon crushed red pepper flakes
2 tablespoons of red wine vinegar (or white)
4-5 cloves garlic, peeled
Extra virgin olive oil (enough to cover garlic while baking)
12 sprigs fresh rosemary
3 bay leaves
Pre-heat oven to 350 degrees F
Lay the garlic cloves on the bottom of a small baking dish. Cover with at least one inch of olive oil, fresh rosemary and bay leaves.
Bake until the garlic cloves are soft, fragrant, and lightly browned but still hold their shape. Approximately 30-45 minutes. Remove from oven and let cool. Remove from oil and finely chop the garlic.
Preheat oven to 500 degrees F
In a medium bowl, toss the cauliflower with the olive oil and season with a little salt and ground black pepper.
Heat a large oiled oven safe saute pan over medium heat. Add the cauliflower into the hot pan and cook until the cauliflower starts to brown, about 3-5 minutes. Transfer the pan to the 500 degree oven.
(If you don't have an oven safe saute pan just transfer the cauliflower to a baking sheet lined with tin foil and lightly prepared with olive oil.)
Cook for 5 minutes. Remove from oven and turn the cauliflower over, and cook on the other side until well seared about another 3-5 minutes.
Remove from oven. Place in a large bowl. Add the finely chopped garlic cloves, parsley, red pepper flakes and red wine vinegar. Lightly toss to combine and serve.
Recipe by
Ordinary Vegan
at https://ordinaryvegan.net/roasted-cauliflower-recipe/