Vegan Meatballs with Spicy Chile Sauce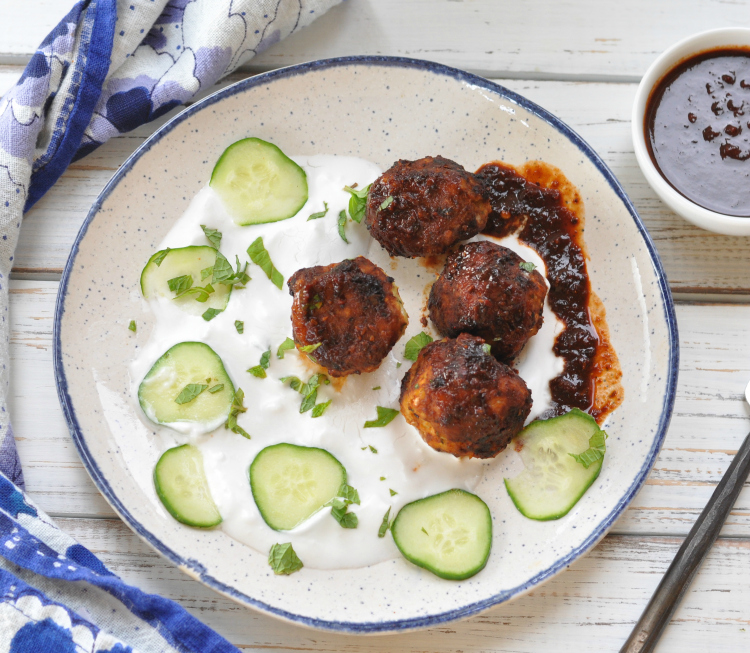 1 15-ounce carton of cooked chickpeas, rinsed but save liquid
2 tablespoons aquafaba liquid (liquid from chickpeas)
¼ cup breadcrumbs
¼ small onion, chopped
2 garlic cloves, chopped
2 tablespoons parsley, chopped
½ teaspoon dried oregano
½ teaspoon fennel seeds
½ teaspoon ground cumin
½ teaspoon salt
Fresh Ground Pepper
2-3 Dried Pasilla, Ancho Chilies or Chipotle Chilies, seeds removed, chopped
1 tablespoon cumin seeds
¼ cup Red Wine Vinegar or Sherry Vinegar
1 tablespoon sweet paprika
1½ tablespoons maple syrup
1 garlic clove, chopped
Salt & ground black pepper to taste
¼ - ½ cup vegetable broth
½ cucumber thinly sliced
½ teaspoon lemon zest
2 tablespoons fresh lemon juice
1½ tablespoons Sherry vinegar or Red Wine vinegar
2 tablespoons water
½ cup non-dairy plain, unflavored yogurt
¼ cup chopped fresh mint
Heat oven to 350 degrees F. Line a baking sheet with parchment paper.
Pulse until finely chopped
Form into small balls and place on baking sheet lined in parchment paper. Cook for 15-20 minutes or until firm and brown.
Toast chile sand cumin seeds in a dry small saute pan over medium heat. Cook until fragrant and the cumin seeds are golden, approximately 2-3 minutes, tossing occasionally. Let cool.
Finely grind the chiles and cumin seeds in a spice mill, then transfer to a food processor or blender.
Add vinegar, paprika, maple syrup, garlic and vegetable broth and blend until smooth. Taste and adjust seasonings adding more maple syrup if too hot. Add more vegetable broth if too thick
Toss the chopped cucumber in a medium bowl with the lemon zest, lemon juice, water and vinegar. Season with salt and pepper.
Spoon a little yogurt onto a dish and a little chili sauce. Place meatballs on top. Garnish with chopped mint.
Recipe by
Ordinary Vegan
at https://ordinaryvegan.net/aquafaba-egg/