Eggplant Parmigiana with Cashew Ricotta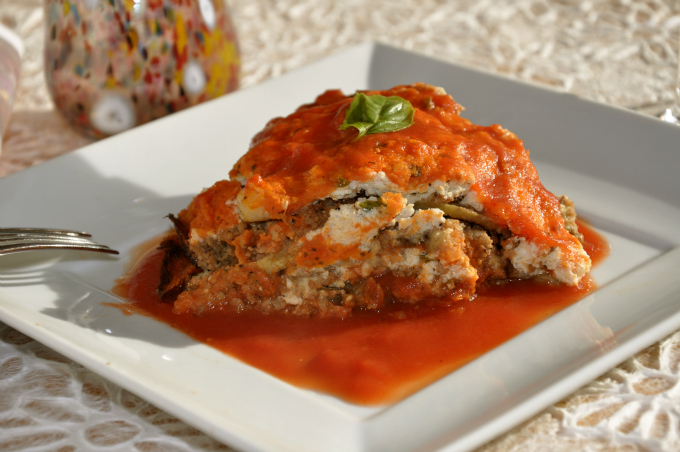 3 tablespoons olive oil
½ medium onion
2 garlic cloves, minced
1 28 ounce can crushed or diced tomatoes
2 large eggplants
salt
fresh ground pepper
1 teaspoon dried oregano, or 1 tbsp minced fresh oregano
2 tablespoons minced fresh flat-leaf parsley
1 bunch fresh basil, stemmed and leaves torn into large pieces
1 recipe Cashew Ricotta (see below)
1 cup dried bread crumbs
½ cup non-flavored, non-dairy milk
¾ cup raw cashew pieces (4 ounces)
2 tablespoons fresh lemon juice
1 garlic clove
1 tablespoon extra-virgin olive oil
8 ounces extra-firm tofu, drained
½ tsp salt
2 grinds of black pepper
In a large skillet, heat 1 tablespoon olive oil over medium heat. Add the onion and saute until soft and translucent (about 4-5 minutes). Add the garlic and saute for 1 minute. Add the tomatoes and their juices and cook, stirring occasionally until thick, 25-30 minutes. Let cool, then transfer to a blender or food processor and blend until smooth.
Heat oven to 400 degrees fahrenheit. Coat an 8-inch square baking pan with a little olive oil.
Trim the ends of the eggplants, then cut the eggplants lengthwise into ¼ inch thick slices. Place the non-dairy milk in a bowl and the bread crumbs on a plate. Dip each slice into non-dairy milk and then into the bread crumbs until each slice is coated lightly in the crumbs. In a large skillet, heat a tbsp of olive oil over medium-high heat. Put as many eggplant slice as will fit in the skillet and cook until golden brown, turning once, 2 to 3 minutes per side. Transfer to paper towels to drain, then season lightly with salt and pepper. Repeat with the remaining eggplant.
Stir the oregano and 1 tablespoon of the parsley into the cashew ricotta.
Spread one-fourth of the tomato sauce on the bottom of the prepared pan, then arrange one-third of the eggplant slices on top of the sauce. Sprinkle one-third of basil leaves over the eggplant, Spread one-third of the cashew ricotta (about ½ cup) evenly over the basil leaves. Repeat the layers two more times: sauce, eggplant, basil and cashew ricotta. Spread the remaining sauce over the last layer of cashew ricotta. If you have some extra bread-crumbs, you can also sprinkle the bread crumbs over the top to give it a crunchy top.
Bake for 45 to 60 minutes, until the juices are bubbling. Let stand for 10 minutes before cutting and serving.
In a food processor, combine cashews, 2 tablespoons lemon juice, 1 garlic clove, 1 tablespoon extra virgin olive oil, tofu, ½ tsp salt and 2 grinds of pepper. Process until smooth and creamy, 2-3 minutes. Set aside.
Recipe by
Ordinary Vegan
at https://ordinaryvegan.net/eggplantparmigiana/