One-Pot Vegan Tomato Basil Spinach Pasta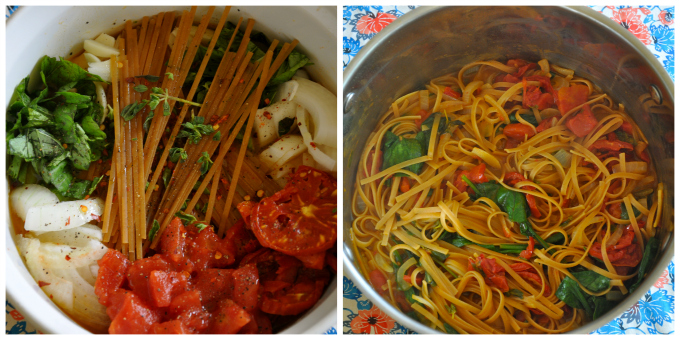 12 ounces spaghetti
1½ cups diced tomatoes with liquid (of 1 15 ounce can)
½ cup sun-dried tomatoes
1 sweet onion, cut in julienne strips
4 cloves garlic, thinly slices
½ teaspoon red pepper flakes
½ tsp salt
Fresh ground black pepper
2 teaspoons dried oregano leaves
handful of basil, chopped
handful of spinach (optional) *
4½ cups vegetable broth
1 tablespoons extra virgin olive oil (optional)
Place pasta, tomatoes, sun dried tomatoes, onion, garlic, in a large stock pot. Pour in vegetable broth.
Sprinkle the pepper flakes and oregano on top.
Drizzle with olive oil if using
Add ½ tsp salt and some ground black pepper
Cover pot and bring to a boil. Reduce to a low simmer and cook for about 10 minutes, stirring every 2 minutes. Cook until almost all the liquid has evaporated until there is about one inch of liquid left in the bottom of the pot. Add the fresh basil and serve.
*Add the spinach 7 to 8 minutes into cooking.
Recipe by
Ordinary Vegan
at https://ordinaryvegan.net/onepotpasta/