Grilled Watermelon Salad with Charred Beets & Tomatoes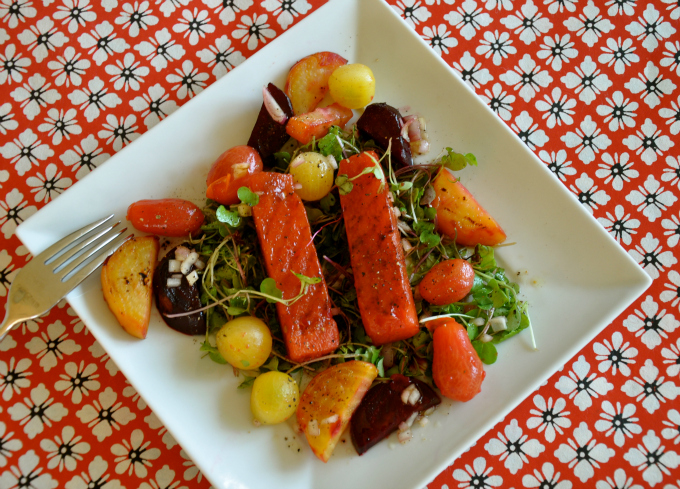 3 medium beets
12 cherry tomatoes
2½-inch thick slices seedless watermelon, cut into 8 pieces
2 Tbsp. pepper jelly
couple of handfuls of micro-greens

coarse sea salt
freshly ground black pepper
2 Tbsp. Sherry vinegar
2 Tbsp. shallots, finely chopped
4 Tbsp. extra-virgin olive oil
Squeeze of fresh lemon
Preheat oven 350 degrees. Preheat grill.
Whisk together sherry vinegar, shallots, lemon juice and olive oil - set aside
Wrap beets individually in foil. Set on a baking sheet and roast in oven for 1 hour. Unwrap beets and cool to room temperature. Peel and quarter beets.
Bring a small saucepan of water to a boil. Drop tomatoes into boiling water for 30 seconds, then quickly drain and rinse with cold water. Slip the skins off the tomatoes, leaving tomatoes whole.
Brush watermelon pieces with pepper jelly. Set pieces jelly-side down on hot grill for 2 minutes, or until lightly charred. At the same time, set beet quarters on grill for 2 minutes.
To serve salad. Toss micro-greens with some vinaigrette. Divide among 4 plates. place two slices of watermelon on each plate. Top with grilled beets and tomatoes. Then drizzle with more sherry vinaigrette. Sprinkle with a bit of sea salt and a few grinds of black pepper and serve immediately.
Recipe by
Ordinary Vegan
at https://ordinaryvegan.net/watermelonsalad/