Chipotle Kale Chips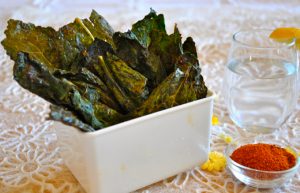 1 bunch kale
2 tsp olive oil
2½ tsp smoky chipotle paprika (or try this blend - 1 tsp sweet paprika, 1 tsp ancho chili ground, ½ tsp chili powder, sprinkle of cayenne red pepper and salt - mix)
Pre-heat oven to 310 degrees F
Rinse and dry the kale, Remove the stems, veins and tear or cut into large pieces.
In a bowl toss with olive oil and seasonings.
Line 2 baking sheets with foil or parchment paper. Place leaves on the sheet in a single layer.
Bake 20 minutes until desired crispiness. I like mine crispy but not burnt.