No Bones Baby Jackfruit Barbecue Sandwich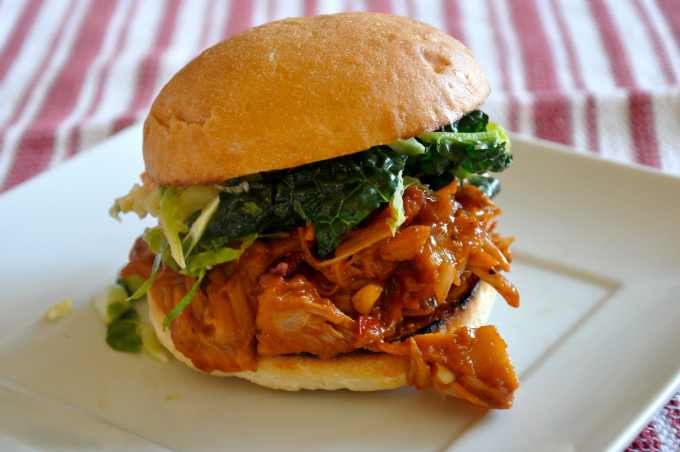 4 cloves garlic, minced
2 tsp grated ginger root
¼ cup veggie broth
15 ounce can green jackfruit (In brine or water) drained and rinsed well, squeezed of extra water
couple of pinches of ground chipotle pepper
¼ tsp liquid smoke
½ tsp salt
½ cup of your favorite barbecue sauce
¼ cup water
Heat the vegetable broth in a non-stick pan over medium heat.
Add the jackfruit, chipotle, liquid smoke and salt.
Cook, stirring, for 4-5 minutes
Transfer the pan mixture to a slow cooker, add the barbecue sauce and water, toss well.
Cook on high for 1 hour, stirring every 15 minutes and adding more water as needed.
The jackfruit should be fork tender.
Take the jackfruit out of the cooker and shred.
Serve or transfer to a container and refrigerate. Heat before serving.
I like to serve it on a vegan bun topped with a kale cole-slaw.
Recipe by
Ordinary Vegan
at https://ordinaryvegan.net/babyjackfruitbbq/