Hot Jalapeño No Beef Burger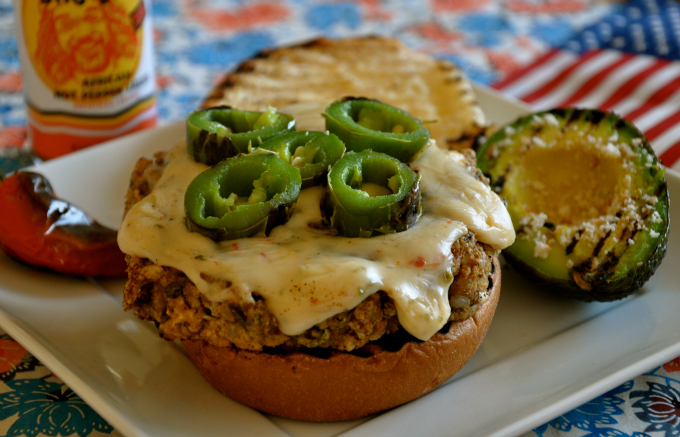 2½ Tbsp ground flaxseed
1 cup cooked lentils
¾ cup cooked white short grain rice
1 cup of pecan nuts, finely processed
½ cup chopped green onion
½ cup finely chopped portabello mushroom
1 cup cup oat flour, or other flour of your choice (oat will keep it gluten-free)
2 slices wholewheat bread (or gluten-free), finely processed
⅓ cup sunflower seeds, finely processed
½ tsp baking powder
½ tsp salt
a sprinkle of red pepper flakes
2 cloves garlic, minced
¾ teaspoon dry mustard
2 teaspoons Tajin clasico seasoning or taco seasoning
½ teaspoon habanero or other chile powder and some for dusting
2 Tbsp smoky chipotle barbecue sauce (or your favorite)
4 fresh jalapeno peppers, grilled, sliced
4 slices vegan pepper jack cheese
a few twists of fresh ground pepper
Burger buns
Make your flax egg mixture. In a small bowl, whisk together powdered flax seed & ½ cup warm water until well blended and thick. Place your flax egg mix in the fridge for at least 15 minutes but ideally closer to an hour.
Meanwhile, boil your rice and lentils seperately making sure they don't get too mushy
Process seperately (but using same processor) the pecan nuts, sunflower seeds and whole wheat bread - place in large bowl
Finely chop your onion and mushroom and add to large bowl.
Add all the remining ingredients except for flax-seed egg mixture and combine well
Then add in the flax egg mix, and using your hands continue to mix until well combined
Form into tight round patties and transfer onto a pre-greased baking tray, and place in the freezer for 20 to 30 minutes. This helps bind them.
Dust the burger on both sides with habanero powder. Place on barbecue grill for 5 to 6 minutes on each side, until they have a deep golden colour - add cheese on first turn cover grill to melt.
Meanwhile grill your jalapeno peppers.
Lightly toast the inside of the burger bun, place the patty on the bottom bun and layer with grilled sliced jalapenos. Top it off with some avocado and hot sauce.
You can also bake the burgers in a 400 degree F oven for approximately 15 minutes on each side until golden.
Freeze extra uncooked burgers for another day.
Recipe by
Ordinary Vegan
at https://ordinaryvegan.net/spicyburger/