Moroccon Vegan Stew with Chickpeas, Sweet Potatoes, Raisins & Spinach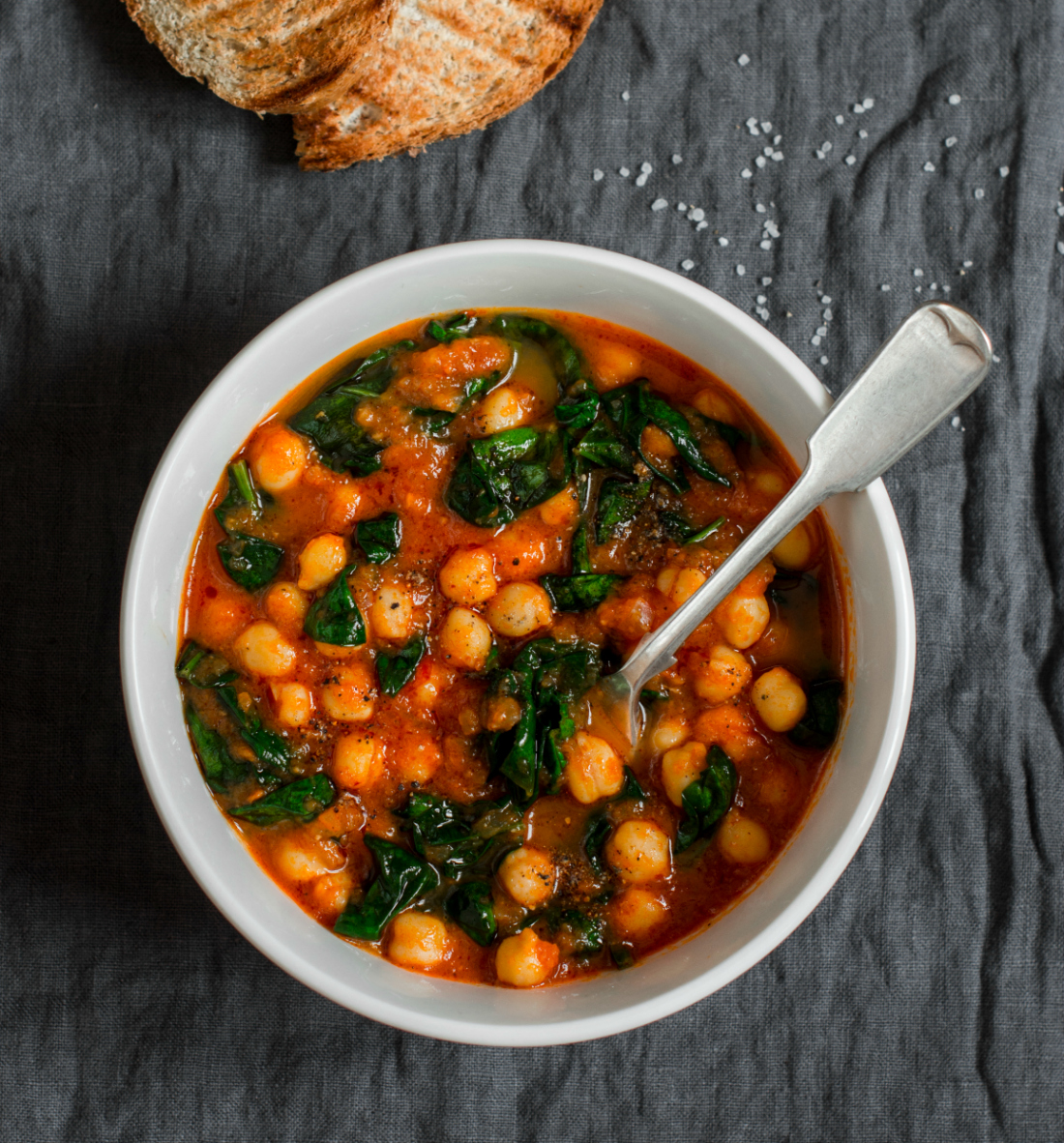 ½ cup vegetable broth for sautéing
1½ cups vegetable broth for stew
1 small onion, chopped (1 cup)
2 cans of cooked chickpeas (15-ounce)
1 sweet potato, chopped into bite-sized pieces (approximately 1½ cups)
2 1/12 cups crushed tomatoes
5 ounces fresh spinach leaves
½ cup golden raisins
¼ cup chickpea liquid (aquafaba - liquid from cartons of chickpeas)
3-4 garlic cloves, crushed
1 pinch of saffron (approximately 20 threads)
1 pinch of ground cloves (approximately ⅛ teaspoon)
1 tablespoon sweet paprika
½ teaspoon cumin
¼ teaspoon coriander
⅛ teaspoon cayenne pepper (optional) adds a little heat
1 teaspoon salt
Fresh ground black paper
Using a garlic press or flat side of a large knife, mash the garlic to a paste. In a small bowl add the garlic, chickpea liquid, saffron, ground cloves, paprika, cumin, coriander, salt, some fresh ground black pepper and cayenne and mash until well combined. Set aside.
In a large skillet or soup pot heat the ½ cup of vegetable broth. Add the onion and cook over medium heat until the onion is soft and translucent approximately 3 minutes. Add the garlic mixture (flavor bomb) and cook for another minute.
Add the cooked chickpeas with liquid, ground tomatoes, 1½ cups vegetable broth and sweet potatoes. Bring to a boil, reduce heat and simmer until the sweet potato is tender. Approximately 15 minutes. Add the spinach and raisins and cook for another 5 minutes.
Taste and adjust seasonings.
Serve with crusty bread or pita. This would also taste delicious over brown rice.
Recipe by
Ordinary Vegan
at https://ordinaryvegan.net/moroccon-vegan-stew/