Spicy Cauliflower Stir Fry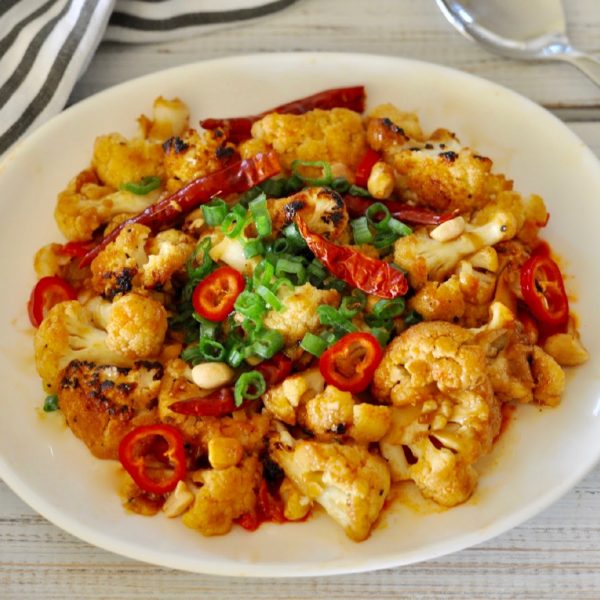 1 Medium head of cauliflower, leaves removed and cut into medium florets
1 teaspoon of olive oil (or vegetable oil)
½ teaspoon salt
Fresh ground black pepper (couple of twists)
2 tablespoons Chinese rice wine or dry sherry
2 teaspoons of cornstarch
1½ tablespoons low-sodium soy sauce or Tamari
1 tablespoon sherry vinegar
2 teaspoons hoisin sauce
2 teaspoons brown sugar
1 teaspoon toasted sesame oil
3 scallions chopped, white parts, thinly sliced (save chopped green part for serving)
1 serrano chili, thinly sliced
1 1 inch piece ginger, peeled and grated (or finely chopped)
2 garlic cloves, thinly sliced
¼ cup unsalted, roasted peanuts
6 dried chile de árbol chiles, japonés chiles, or other dried red chiles
In a small bowl, whisk the Chinese rice wine, cornstarch and soy sauce together and set aside.
In another small bowl, whisk sherry vinegar, hoisin sauce, brown sugar, and sesame oil together.
In another bowl, combine 3 chopped white scallions, 1 sliced Serrano pepper, 1 inch of grated ginger, peanuts, 6 dried red chiles, and two chopped garlic cloves.
Heat the teaspoon of olive oil in a large non-stick sauce pan or wok over medium heat
Add the cauliflower, season with salt and a little ground black pepper, and cook, tossing occasionally until browned in places and beginning to soften 7-9 minutes. Add a little vegetable broth if sticking
Add bowl #1 cornstarch mixture and cook for for another minute.
Add bowl #2, sherry vinegar mixture and cook for another 3-5. minutes.
Add bowl #3 and cook until the cauliflower is charred in spots and crisp and the sauce is fragrant another 3-4 minutes, stirring constantly.
Transfer to a serving dish and top with scallion greens. Serve with rice.
Recipe by
Ordinary Vegan
at https://ordinaryvegan.net/spicy-cauliflower-stir-fry/