Collard Greens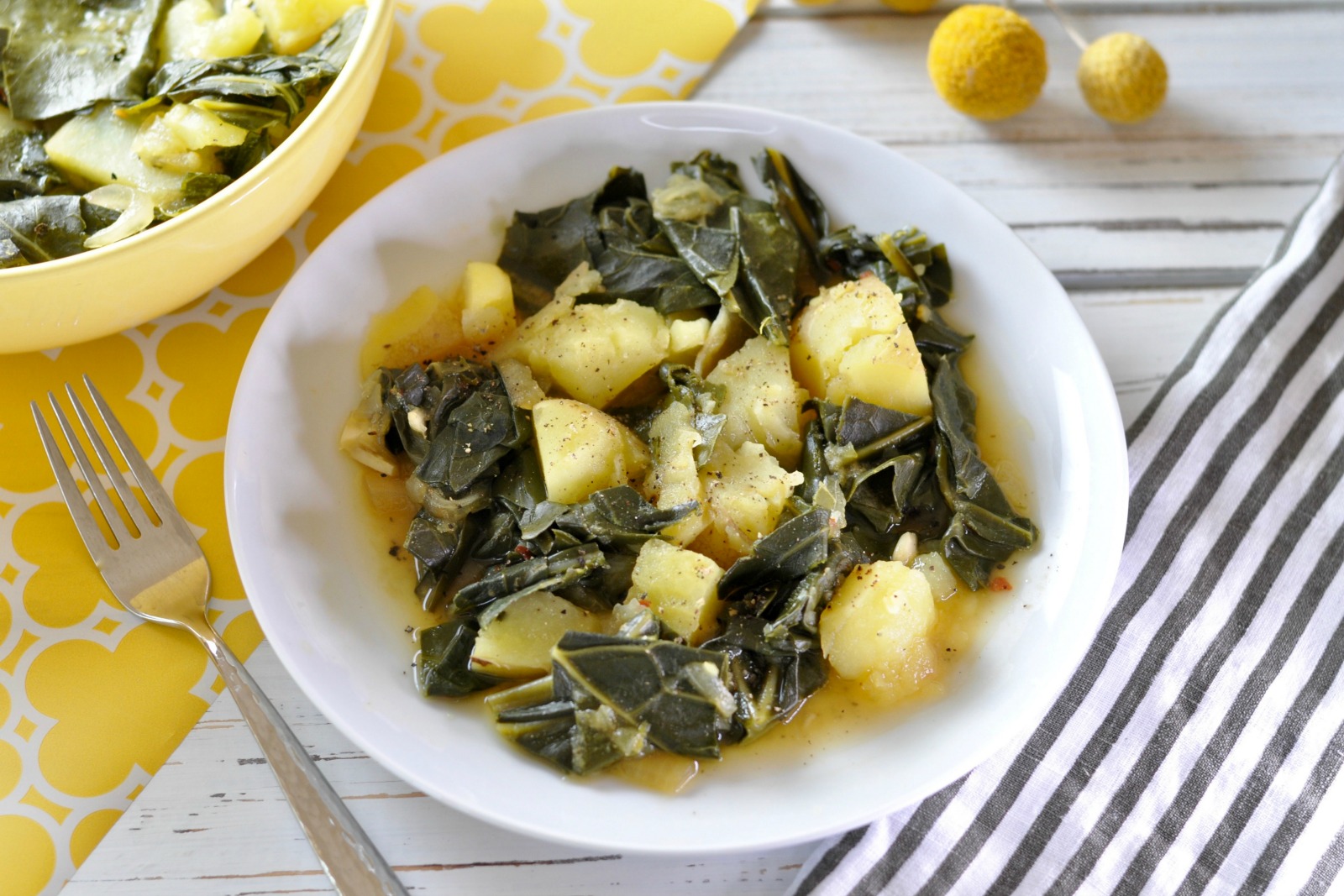 1 large bunch collard greens, stemmed and washed thoroughly
¾ pounds yellow fleshed potatoes like Yukon gold (peeled or unpeeled)
½ cup vegetable broth
1 small onion, thinly sliced
2-4 garlic cloves, chopped
½ teaspoon salt
Fresh ground black pepper
¼ teaspoon red chili flakes (optional)
¼ cup nutritional yeast
Bring a large pot of water to a boil. Fill a bowl with ice water. When the pot of water comes. to a boil, add a generous pinch of salt and add the collard greens. Blanch for four minutes, and transfer to the ice water with a slotted spoon. Save the water the greens were cooked in. Drain and squeeze out the extra water from the greens and chop coarsely. Set aside.
Heat ½ cup of vegetable broth over medium heat in a dutch oven. Add the onion and cook until softened, approximately 3 minutes. Add the salt, ground black pepper, garlic and red pepper flakes. Add more vegetable broth if sticking.
Continue to saute for another 2 minutes.
Stir in the collard greens. Mix together. Add 1 cup of the cooking water and set another cup of cooking liquid aside. Bring to a simmer, cover partially and simmer over low heat for 45 minutes adding more cooking liquid as needed. You always want it simmering in the cooking liquid.
While the greens are cooking, bring the left over collard green water to a boil. Scrub the potatoes (skin on or off works). Cut them in quarters and add to the pot of boiling collard green water. Bring to a boil, lower the heat and simmer until tender 15-22 minutes. Uncover the greens add the nutritional yeast and then the potatoes. Combine and using a fork or wooden spoon, crush the potatoes into the greens keeping it chunky, Taste for seasoning.